New York — The hard-core shoppers who flock to stores and malls at 5 a.m. Friday for those post-Thanksgiving bargains may find that they're stragglers; a growing number of retailers will be open at midnight with early bird specials to begin the holiday season.
And retailers including CompUSA Inc. and BJ's Wholesale Club Inc. aren't waiting for the day known as Black Friday - they'll be open on Thanksgiving for the first time to give shoppers and themselves an even bigger head start.
More stores are opening earlier because they want to grab customer dollars before the competition does. It's great for shoppers, who have more options if they're willing to sacrifice a night's sleep. But it also creates challenges for retailers; many industry analysts question how profitable expanded hours are because stores must increase their investment in labor.
And many merchants who had a surge in bargain hunters in the wee hours later suffered a dropoff in business after the early bird specials ended and the crowds dissipated.
"It makes for a flashy start. But in recent years, the overall weekend has been just ho-hum," said Michael P. Niemira, chief economist at the International Council of Shopping Centers. "I just don't know whether this is the kind of strategy that makes for a good holiday season."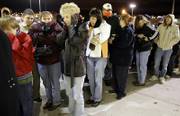 Many retailers like Wal-Mart Stores Inc. and Best Buy Co. are resisting the urge to pull an all-nighter, at least for now. Bart Reed, Best Buy Co.'s consumer marketing director, said the store will stick to the 5 a.m. opening on Black Friday to give store associates a "work-life balance."
Other retailers say they have no choice but to throw themselves into the midnight game on Black Friday, so named because it was traditionally when the surge of shopping made stores profitable.
"It would make terrible business sense if we didn't do it," said Ernie Speranza, chief marketing officer at KB Toys, which will have more than 50 stores opening at midnight Friday, up from nine a year ago.
Many shoppers just love the early start.
Sharise Monroe, of Miami, said she planned to begin her holiday shopping before dawn on Friday to get the special limited offers at Wal-Mart, Target Corp. and other stores.
"I try to get the one of five items they have out for that price," said Monroe, who will be looking for computer upgrades and a printer for a Kodak digital camera.
Two years ago, mall developer General Growth Properties experimented with having its Birmingham, Ala., mall open at midnight.
Last year three other malls joined the early openers, and this year a total of seven malls will be greeting very early shoppers this year.
Copyright 2018 The Associated Press. All rights reserved. This material may not be published, broadcast, rewritten or redistributed. We strive to uphold our values for every story published.