Move over turkey: Caffeine is the official fare for the day after Thanksgiving.
At least it is if you are among the hundreds of Lawrence retail workers who will be staffing stores and shops in the city today.
"I probably drink more caffeine (today) than I do in a week's time," said Jeremy Cain, an employee at Hobbs, 700 Mass. "You don't want to have your brain blurred. You have to bring your 'A' game."
A calm demeanor, patience and a friendly smile also are good things for retail employees to tote along to work today.
"The entire day is extremely hectic," said Tricia Sweany, an employee at The Toy Store, 936 Mass. "You will get yelled at. But the day goes by fast. It is stressful, but it helps that it goes by fast."
Cain describes the job as being a "pinball," bouncing from one task to the next. But the thought of all the bouncing does nothing to slow down his Thanksgiving day eating plans.
"I still pound down all that stuff," Cain said. "I figure I'll need it for fuel."
The main key to having a successful day, though, isn't turkey. It is planning, said Justin Burns, store team leader for Lawrence's SuperTarget, 3201 Iowa. His store begins bulking up its employee totals in October by hiring 50 to 80 seasonal employees who work through January.
Burns estimated that at any given point during today that the store would have 20 to 30 more employees working than it normally would.
"I'm a former Army officer, and to be honest with you, it kind of has that feel of working together as a team and accomplishing missions throughout the day," Burns said. "That's the biggest thing I enjoy about the job - the sense of camaraderie and teamwork."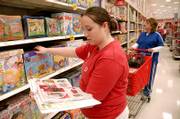 At JC Penney, 3311 Iowa, Lynn Roberts has been working in retail for 26 years. She said the key to working the day after Thanksgiving is to learn how to look forward to it.
"I just try to be mentally positive," Roberts said. "You can't think of it as a curse. You just have to look at it as an opportunity to help a lot of people."
Sweany, at The Toy Store, agreed that the day can have its special moments.
"It is rewarding when someone finds the absolutely perfect toy for a person," Sweany said. "It is neat to think they'll play with that toy for years, and probably even remember it when they grow up and have kids."
Copyright 2018 The Lawrence Journal-World. All rights reserved. This material may not be published, broadcast, rewritten or redistributed. We strive to uphold our values for every story published.