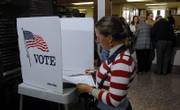 Inside Building 21 at the Douglas County 4-H Fairgrounds, County Clerk Jamie Shew held a ballot out for a room full of election judges to see.
There are going to be questions on how to fill these out, Shew told the election judges, who are watching over the 67 county voting locations today.
The supervising judges, posted one to a poll, have been training for three weeks.
There are going to be issues, too, such as people using their phones in the polling booths. Using a cell phone in a polling booth to discuss votes is illegal. So, too, is picketing too close to the polls.
But, in all, Shew said, "I think it's going to go great. We're ready to go."
More than 7 percent of Douglas County residents already have cast their votes through advance balloting, Shew said. With about 52 percent of registered voters here anticipated to vote this election, the heavy advance voting could lessen lines and workloads at polling locations today.
-->
Shew said about 5,500 county voters cast ballots early - through mail and in person. With more advanced ballots to be counted today, the total of advanced voters already has surpassed the last midterm elections in 2002, Shew said, when 4,132 people voted in advance.
As of Monday, 1,959 people had voted in person at the Douglas County election offices, Shew said. Plus, more than 3,500 ballots had been mailed with another few hundred arriving Monday.
Shew said the percentage of advance voters could be higher in certain precincts - for example, those in the highly contested 2nd District congressional race.
"Advance is becoming more and more of a popular option," Shew said. "When we're all done, I think (the percentages of advance voters) will be in the teens."
Copyright 2018 The Lawrence Journal-World. All rights reserved. This material may not be published, broadcast, rewritten or redistributed. We strive to uphold our values for every story published.