For months, major questions have been taking shape in the political arena.
And during that time, candidates seeking elected leadership positions have provided answers to those questions.
Today, the voters get to grade those answers.
From the courthouse to the Statehouse to even the White House, voters have an opportunity to change the course of government, stay the course, or plot a course somewhere in between.
"We're talking about an election that will be very close," said Allan Cigler, a Kansas University political science professor.
"In fact, I expect a number of disputed elections because of the closeness," he said. "This may very well be an election where a handful of votes determines the outcome."
National debate
Polls will be open from 7 a.m. to 7 p.m. The weather forecast calls for sunny and mild conditions with temperatures in the 70s.
On the ballot are all statewide jobs, U.S. House seats, state House seats, five State Board of Education positions, retention of one Kansas Supreme Court justice and a number of appeals court and lower court posts.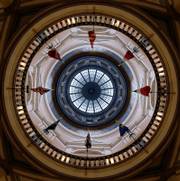 And while there is no presidential race this year, the war in Iraq and congressional scandals have turned this election in many regions into a national referendum on President Bush and the Republican Congress.
That debate has become evident in the 2nd congressional district, which includes west Lawrence, Topeka, Manhattan and southeast Kansas.
Five-term incumbent Jim Ryun, a conservative Republican from Lawrence, faces Democrat Nancy Boyda, whom he defeated handily in 2004.
On Sunday, Bush campaigned in Topeka to help Ryun as part of a whirlwind trip by the president to energize the Republican base against what some predict will be a Democratic takeover of Congress.
With the stakes this high, Republican and Democratic officials in some states have suited up for possible legal challenges to election results.
But in Kansas, state Democratic Party officials downplayed the possibility of legal fights.
-->
"We're prepared to deal with whatever comes up, but we're not anticipating having to go to court," said Frances Gorman, a spokeswoman for the Kansas Democratic Party.
She said stories of possible legal fights serve only to lower voter participation because it may frighten some voters away from the polls.
Kansas Republican Party officials did not return a phone call for comment.
Paper ballots here
On the local level, election officials didn't anticipate any legal problems.
In Douglas County, election officials say if you have voted before in the county, there is no need to have identification with you to vote. But county elections deputy Keith Campbell said just for insurance, voters should carry identification.
New voters to Douglas County may be asked to show a form of identification with current address, which could include a driver's license, passport, student ID or water and utility bill, he said.
Douglas County voters will vote on paper ballots. Campbell said the county hasn't gone to the electronic machines because of ballot security concerns.
The paper ballots will be placed in scanners where the vote will be recorded, he said.
Campbell said voters can look at sample ballots and get more information on voting by going to www.douglascountyelections.com.
Turnout predictions
State election officials say about half of the state's 1,663,017 voters will cast ballots. That participation rate ranks similarly to other recent presidential mid-term elections in 2002 and 1998. One out of every five expected voters have already voted in advanced voting.
Of the state's registered voters, 763,992 are Republican; 446,538 are independent; 441,833 are Democrat; 9,191 are Libertarian; and 1,463 are Reform.
The 10 most populous counties make up 65 percent of the vote. Those counties are Johnson, Sedgwick, Shawnee, Wyandotte, Douglas, Reno, Leavenworth, Saline, Butler, and Riley.
In Douglas County, there are 76,737 registered voters.
Copyright 2018 The Lawrence Journal-World. All rights reserved. This material may not be published, broadcast, rewritten or redistributed. We strive to uphold our values for every story published.