Topeka — The White House on Thursday confirmed President Bush will visit Kansas on Sunday to stump for U.S. Rep. Jim Ryun, R-Lawrence, who is locked in a tough race against Democratic challenger Nancy Boyda.
Now the question is whether Bush's appearance will help or hurt Ryun, a five-term incumbent and one of the most conservative members of Congress.
Boyda said Bush's visit to Topeka will be "too little, too late."
She said her campaign's internal polling shows she is pulling ahead of Ryun in the district that includes west Lawrence, Topeka, Manhattan and southeast Kansas.
Allan Cigler, political science professor at Kansas University, said Bush's visit confirms that Ryun is in jeopardy of losing.
But Cigler said Bush's presence should give Ryun a boost.
"He (Bush) is coming here to energize the Republican base, and Ryun in that district has won largely because he has been able to energize the evangelical vote, and Bush can help him do that," Cigler said.
However, Cigler said the visit also illustrates that Ryun is solidly in line with Bush on the most divisive issue of the campaign: the war in Iraq.
Rallying Republicans
Nationally, Democrats are hoping to win majorities in Congress on Tuesday because of public discontent about the war and recent scandals. Bush is spending the last five days of the campaign crisscrossing the country to try to shore up support for Republicans.
But Jeffrey Black, campaign manager for Ryun, denied that Bush's visit was solely to help the congressman.
"He's not here for us. He's here for Kansas Republicans," Black said. "This is a great opportunity to bring all Republicans in Kansas together and get pumped up."
Last month, Vice President Dick Cheney stopped in Topeka to help raise $209,000 for Ryun. Black said Bush's visit was not a fundraiser, but simply a chance to rally voters.
Boyda has maintained for weeks that her race with Ryun was close, and several congressional watch groups have backed her claims.
On Thursday, she said a poll taken for her campaign last week of 1,000 likely voters showed she was ahead 47.7 percent to 38.5 percent.
But Black said Ryun was ahead in the race even though Ryun conceded Tuesday that the contest was tight.
"Close is relative," Black said, but he declined to reveal the campaign's internal polling.
Voter decision
Boyda heard about Bush's travel plans after speaking to students at Free State High School.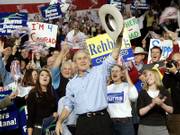 "I don't think the president's visit is going to help him (Ryun), but that is totally up to the voter," she said.
Boyda said Bush's announcement Wednesday that he wanted Defense Secretary Donald Rumsfeld to remain in the job until the end of his term in 2009 didn't sit well with voters who are unhappy with the war.
"I don't think that gives people the sense of security that they are looking for," she said.
When it became apparent earlier in the week that Bush would stop Sunday in Topeka, Boyda put together plans to have a campaign rally at 1 p.m. that day at the Capitol.
Bush will speak at 6:20 p.m. at the Kansas Expocentre as one of several stops he is making Sunday in the Midwest. Black said tickets for the event, which is open to the public, are available through the Kansas Republican Party.
Bush easily won Kansas in 2000 and 2004 with support from 58 percent and 62 percent of voters respectively, but Kansas Democrats have a strong ticket in this midterm election year.
Gov. Kathleen Sebelius and U.S. Rep. Dennis Moore, whose district includes eastern Lawrence, are seeking re-election against outfunded Republican candidates.
And Democrat Paul Morrison, the Johnson County district attorney, has put up a fierce political fight against Republican Atty. Gen. Phill Kline.
In addition, Boyda has surprised some political observers by closing the gap with Ryun, who defeated Boyda easily in 2004.
Copyright 2018 The Lawrence Journal-World. All rights reserved. This material may not be published, broadcast, rewritten or redistributed. We strive to uphold our values for every story published.