INDEPENDENCE, MO. — Prosecutors investigating a Missouri couple accused of videotaping the rape of a woman and killing her say the pair may be linked to another body found in a neighboring county.
"We are dealing with a body in Clay County and we believe it may be connected to the case," said Ken Evans, a spokesman for Jackson County prosecutor Mike Sanders.
Bound by handcuffs and shackles, Richard D. Davis, 41, and Dena D. Riley, 39, pleaded not guilty Tuesday in Jackson County Circuit Court in the death of 41-year-old Marsha Spicer of Independence.
The two face charges of first-degree murder, first-degree assault, kidnapping, rape and sodomy, and are being held without bond in the Jackson County Jail.
Davis and Riley were questioned and released after Spicer's body was found in a shallow grave in Bates City on May 15, a day after she was believed to have been killed.
Later, authorities obtained a warrant to search their home and found a videotape on their TV stand they say shows Spicer being beaten, sexually assaulted and choked.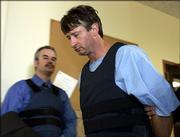 On Saturday, Independence police contacted law enforcement officials in neighboring Clay County about another killing, said Roger Yates, an undersheriff in Clay County.
Police and sheriff's deputies discovered the skeletal remains of a body Saturday in a remote, forested area east of Liberty, Yates said. The Jackson County medical examiner is now performing DNA tests on the badly decomposed corpse.
Authorities are trying to determine whether a woman seen on another tape found in the couple's residence is Michelle Ricci, 36, who has not been seen since April 2.
Neither Sanders nor Independence Police Chief Fred Mills would say if the body was Ricci's.
At a news conference after the pair's arraignment, however, Sanders said he expected Davis and Riley to face additional charges, which could include other slayings. Sanders also said his office was determining whether to seek the death penalty against the two but cautioned "that process could take some time."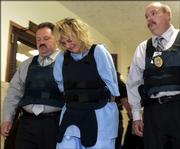 The couple wore bulletproof vests and were escorted into the courtroom by more than a dozen law enforcement officials, whom Sanders said were called in because of concerns events would turn violent.
Riley began crying almost as soon as she sat down and sobbed, head bowed, throughout the proceedings.
Neither Davis nor Riley have an attorney. Jackson County Circuit Judge Stephen Nixon ordered the two to be tried separately - Davis is scheduled to appear in court again on July 12 and Riley on July 19.
As she left the hearing, one of Riley's relatives shouted, "We love you Dena" but declined to comment afterward.
Spicer's family members were so shaken that several who spoke to reporters after the arraignment could not complete their sentences, which were punctuated with outbursts of weeping.
"They deserve what they did to my mom to happen to them," said Spicer's 19-year-old daughter, Betty Jean Spicer, who said she and her infant son visited with her mother days before she was killed. "I know that won't happen, though, so they deserve to die."
Spicer's nephew Richard Curtis described his aunt as a lighthearted but fragile woman who had been scarred by witnessing the death of her mother as a child.
"Her mental capacity was not of a 40-year-old woman, it was of a teenager," he said. "She wanted to be a good grandmother."
Spicer also had been trying unsuccessfully to get over a drug addiction, said her former boyfriend and landlord Willis Hunnicutt, who said he tried to protect her from bad influences.
"If people would tell her they'd get her high, she'd take off with them," Hunnicutt said. "I seen the car that picked her up that night. I just had a funny feeling about it when she drove away."
Spicer went missing May 14. On May 22, prosecutors charged Davis and Riley, who lived together in Independence, with her murder.
After eight days on the run, the two were arrested Thursday in southwest Missouri. Davis' 5-year-old niece was with them when their pickup truck was involved in an accident. The girl remains hospitalized in Kansas City, Sanders said.
Police have not said whether the girl was hurt or sexually abused.
Copyright 2018 The Associated Press. All rights reserved. This material may not be published, broadcast, rewritten or redistributed. We strive to uphold our values for every story published.