Robert Hall Pearson was a man of simple means who took part in a monumental battle that shaped a country.
His home, near the site of the 1856 Battle of Black Jack, remains. It is a key piece of the Battle of Black Jack Park.
The house isn't anything special; it's just a prime example of that era of home in Kansas.
"There's nothing ornate about it," said Ed Pearson, a descendent of Robert Hall Pearson. "There just aren't too many that survived."
The home survived the years because it remained in the family. The 40-acre homestead was purchased in 2003 by the Friends of the Black Jack Battlefield and the Lawrence Preservation Alliance.
Ed Pearson's daughter, Kelly Beal, has been compiling the family history.
"Robert Hall Pearson seems to be a pretty ordinary person from what I can piece together of his life," Beal said. "He emigrated over as a child with his family (from Yorkshire, England), learned the trade of his father, got a traveling bug for a bit and learned some other skills and then desired to settle down.
"The government kicked him off of his first land claim, and so he moved to Black Jack," she said. "He was fairly industrious - crop farming, bee-keeping - but so were most of his contemporaries. The appeal to me of his life story is that he was an ordinary guy caught up in an extraordinary event.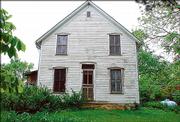 "The event itself, however, shows that the people involved were ordinary people," Beal said. "I mean, they stopped shooting for meals."
The Pearson family is glad the home will be a part of the Battle of Black Jack Park.
"It's nice that people want to preserve history," Ed Pearson said. "I didn't want to see the neighbors impacted with the historic rules."
The home was placed on the Kansas Register of Historic Places. It was built in the late 1880s and is a balloon-framed farmhouse. Robert Hall Pearson built it on the site of the Battle of Black Jack, which he took part in on June 2, 1856.
It's been nearly 80 years since Ralph Pearson, Ed Pearson's father, was born in the home.
"That's what I've been told," Pearson said of being brought into the world at his great-grand father's place, which is located near where the pre-Civil War battle happened.
"I don't remember the place at all," said Pearson, who was born in 1928. "We moved when I was 1 or 2."
That's when the home was turned over to the Cavenders. Ralph's dad, Raymond, turned it over to Fannie Cavender, who was a daughter of Robert Hall Pearson. Her son, Dana Cavender, lived there for years.
About six years ago, Ralph took his father to the home. That was the first time he'd been there since they'd moved.
"It wasn't until dad was in his upper 90s that I took him to see Dana," Pearson said.
Ed Pearson has similar familiarity with the home.
"My granddad (Raymond Pearson) took me there when I was 8 or 10 years old," said Ed. "As far as I got was the kitchen. That's the first and only time I've been there. We didn't socialize with them."
When Dana Cavender died, his son, Jim, and his wife lived in the Robert Hall Pearson home.
"He died and that's when it went up for sale," Ed said.
Copyright 2018 The Lawrence Journal-World. All rights reserved. This material may not be published, broadcast, rewritten or redistributed. We strive to uphold our values for every story published.