State officials Monday announced a stepped-up effort to get more motorists in Kansas to wear their safety belts, especially pickup truck drivers.
"The goal of this is pretty simple," said Gov. Kathleen Sebelius. "To save lives."
The "Click It or Ticket" and "Buckle Up in Your Truck" campaigns will run as part of a national effort from May 24 through June 2.
The campaigns will include radio and television advertisements handled by Corporate Communications Group, a private consultant, and extra enforcement throughout the state.
Last year, 69 percent of Kansas drivers were observed wearing seat belts during surveys, while the national average is 82 percent. Of Kansas' 429 traffic fatalities in 2005, 70 percent were unrestrained.
The survey also showed 52 percent of pickup drivers in Kansas were using seat belts, compared with 73 percent nationwide.
"We see a real weakness in those and a high fatality rate that we are not willing to accept," Secretary of Transportation Deb Miller said of the pickup truck drivers' seat-belt usage.
Pickup trucks also are twice as likely to roll over as cars, and when pickup drivers in rural areas don't wear their seat belts, they are at an added risk because of the additional time it takes for emergency services to reach isolated areas, officials said.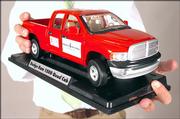 Perhaps to get the attention of young male pickup drivers, the campaign is enlisting the help of Danni Boatwright, the Tonganoxie native who won "Survivor: Guatemala."
Boatwright appeared at the news conference urging Kansans to use their seat belts.
She recalled that several years before appearing on "Survivor," she was in a car wreck and hadn't been wearing her seat belt, but instead was lying in the back seat trying to rest. She broke her collarbone and dislocated a shoulder.
"That was a real eye-opener," she said.
Much of the campaign is being handled by Corporate Communications Group and is federally funded.
Pete Bodyk, chief of the Bureau of Traffic Safety with the Kansas Department of Transportation, said placement of the ads cost approximately $300,000.
He said Corporate Communications has a one-year contract with KDOT for $750,000, with the possibility of four one-year renewals. For that, the group will handle the seat belt campaign, child car seat campaign and the campaign to reduce drinking and driving that will run from the middle of August to Labor Day.
The additional enforcement in Kansas to get more people buckled up will cost approximately $450,000, he said.
While law enforcement officers nationwide warn motorists to "Click it or ticket," in Kansas it's not that cut and dried.
In Kansas, adults can't be ticketed simply for not wearing their seat belts.
If they are caught not wearing seat belts after being stopped for something else, then they can be fined. The fine for not wearing a seat belt is $10 plus $60 court costs.
Copyright 2018 The Lawrence Journal-World. All rights reserved. This material may not be published, broadcast, rewritten or redistributed. We strive to uphold our values for every story published.