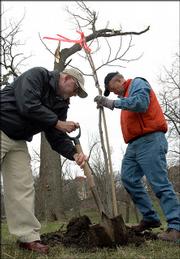 Broken and battered trees dot Kansas University's landscape. But a new tree was planted among the old ones Monday.
"This may be the first replacement tree we've planted," said Gregory Wade, KU landscape architect, referring to the March 12 storm that destroyed about 100 trees at KU and damaged many more.
A seedling from the 200-year-old tulip poplar at Thomas Jefferson's Monticello estate in Virginia was planted in Marvin Lawn near KU's Spencer Museum of Art.
"It's a tree descended from a man who loved learning more than anything," said Dennis Farney, a KU alumnus who donated the tree.
Farney bought the seedling several years ago at Monticello.
The tree is a seedling from the tulip poplar that stands on the west lawn at Monticello. According to records, Jefferson likely planted it in 1807.
Tulip poplars can grow taller than 100 feet. They produce cup-shaped blooms that resemble tulips.
Farney flew the seedling home and has been raising it. It's about 8 years old, he said.
"I'm just delighted that we can plant it here on a spot where I walked by many a time myself," Farney said Monday after helping plant the tree.
Farney earned a journalism degree from KU in 1963 and a master's degree in political science two years later.
A retired journalist, he held many positions, including White House correspondent, at the Wall Street Journal.
He was a finalist for the 1993 Pulitzer Prize in explanatory journalism for the series "The American Civilization," which measured contemporary society against Jeffersonian ideals.
Copyright 2018 The Lawrence Journal-World. All rights reserved. This material may not be published, broadcast, rewritten or redistributed. We strive to uphold our values for every story published.