Kansas University on Thursday blamed the state's failure to pay for facilities maintenance for exacerbating the damage from Sunday's storm.
KU officials say the high winds left behind at least $6 million in damage.
"I think if we'd been able to address our deferred maintenance, we would have come out better," Vice Provost Jim Long said.
The state's universities want the Legislature to address a $584 million repair backlog. KU officials connected the university's plight in the wake of Sunday's storm to the problem of deferred maintenance.
"We're very conscious that we're kind of living on the edge in a sense, in terms of the quality of our facilities and need for maintenance," said Jim Modig, KU director of design and construction management.
But, when questioned, Modig said it wasn't always the oldest or worst maintained roofs that suffered significantly from the storm.
KU and the Kansas Board of Regents made their last complete assessment of conditions at KU buildings in 2004. Roofs were rated on a scale of unsatisfactory to excellent.
Photo Gallery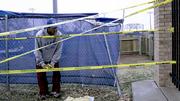 March 12 storms: KU Campus
Some of the roofs damaged by the storm received "good" or "excellent" ratings in 2004.
Blake Hall, which KU says will need a complete new roof, received a good rating in 2004. The Art and Design building, which KU says will cost $400,000 to fix, also received a good rating. And Snow Hall, expected to cost $180,000 to repair, had an excellent rating. In recent repairs to Snow Hall, KU changed its asphalt shingles to tile.
"There are some exceptions," Modig said.
But there were some damaged roofs that got low marks in 2004. The roof of Danforth Chapel, which received an "unsatisfactory" rating, was completely destroyed by the storm. Dyche Hall's roof, which is expected to cost $500,000 to repair, received a "deficient" rating. Fraser Hall's roof also was rated "deficient."
The storm destroyed the roofs of six KU buildings and damaged others. More than 70 of KU's 116 buildings received some damage. One hundred trees did not make it, and others lost limbs.
"The scope of the damage will really not be known until permanent repairs begin," Long said.
Modig said cleanup and repair could continue for six months to a year.
Of the $584 million backlog statewide, KU has $168.5 million in repair needs, not including the $68.8 million needed at KU Medical Center, according to the Kansas Board of Regents.
The Regents allocated $4.36 million to KU for catching up on deferred maintenance in fiscal 2006. Of that, $625,000 was for roof repair.
Copyright 2018 The Lawrence Journal-World. All rights reserved. This material may not be published, broadcast, rewritten or redistributed. We strive to uphold our values for every story published.