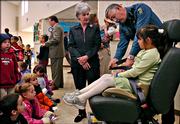 Topeka — A bill requiring more young children to ride in booster seats was signed into law Monday by Gov. Kathleen Sebelius, who said the state still can make further improvements in its vehicle safety laws.
Sebelius said she supports mandating seat belts for all teenagers, and allowing law enforcement officers to stop drivers for not buckling up, rather than having to stop them for another infraction first, such as speeding.
As backers of the legislation looked over her shoulder, Sebelius signed the bill in front of dozens of preschoolers and kindergarten students at a southwest Topeka church holding a safety fair for the youngsters. The new law takes effect July 1.
"Still, the No. 1 cause of death for children in Kansas is car accidents," Sebelius told her audience. "The more we can do to make sure you and children like you all across this state are safe, we want to do it."
State law already requires children under 4 years old to ride in safety seats and children 4 through 13 to wear seat belts. But safety advocates, law enforcement officials and health officials say that belts don't often fit young children, and they can be hurt severely in accidents.
The new law requires children ages 4 through 7 to ride in booster seats if they weigh less than 80 pounds or are less than 4 foot 9 inches tall. For the first year it is in effect, drivers whose child passengers aren't in booster seats will receive a warning ticket. After July 1, 2007, the fine will be $60, triple the current amount.
Supporters of the bill waged a six-year campaign to get it passed.
"There's several more ways we can prevent injuries," said Cindy D'Ercole, a lobbyist for Kansas Action for Children. "When we look at statistics, it's clear that teenagers have some of the highest death rates in the state."
Critics of the booster seat legislation have said it represents government intrusion into families' lives. Opponents of tougher seat belt laws view them as infringing upon personal liberties.
House Transportation Committee Chairman Gary Hayzlett, who opposed this year's bill, said he's not surprised its advocates are talking about pursuing other proposals.
"They'll be back for more and more and more," said Hayzlett, R-Lakin. "I think up to the point, maybe, where they require seat belts on all the toilet stools in all public restrooms - that might be the end of it."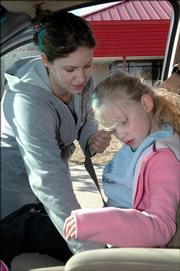 State law requires all front-seat passengers to wear seat belts but makes a violation a "secondary" offense, meaning a driver has to be stopped for another offense first.
Also, children 14 and older don't have to wear seat belts if they're riding in the middle or back seat of a vehicle.
"We need to keep looking for ways to keep children, teens, safer on roads," Sebelius said after the bill-signing ceremony. "We continue to have far too many kids killed on the road."
Copyright 2018 The Associated Press. All rights reserved. This material may not be published, broadcast, rewritten or redistributed. We strive to uphold our values for every story published.