Sedalia, Mo. — Severe storms across the Midwest spawned tornadoes that killed three people.
A twister, which roared up to one-half mile wide, killed a woman seeking shelter in her mobile home and displaced about 150 residents in western Missouri on Sunday night, officials said.
Six people were injured and two were missing after the tornado cut a path more than 16 miles wide through the town of Sedalia, said Rusty Kahrs, Pettis County presiding commissioner.
Bobby Ritcheson, 23, said he watched his neighbor die when her mobile home collapsed on her south of Sedalia.
"She went in there," Ritcheson said of the victim, and "the trailer came down right on top of her."
Sheriff Kevin Bond described the damage he saw as "large amounts of power lines down, many buildings that are simply no longer there, and a tremendous amount of debris."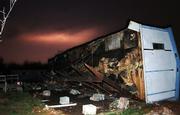 The storms followed powerful tornadoes that ripped across southern Missouri and southern Illinois Saturday night, officials said.
During the night, several people were injured as the storm system pounded the central Mississippi Valley with hailstones as big as softballs, high wind and torrential rain. It was not immediately clear how many tornadoes struck the area.
The twisters were part of a long line of stormy weather that stretched from the southern Plains up the Ohio Valley.
Copyright 2018 The Associated Press. All rights reserved. This material may not be published, broadcast, rewritten or redistributed. We strive to uphold our values for every story published.