The heads in Smith County, Kan., are grayer than most places in the nation.
"We do have a lot of elderly people in the county," said Judy Butler, who works in the county appraiser's office in the north-central town of Smith Center. "There's more elderly than young people, I'm sure, because we have an older population. There's not much here in Smith County to keep the younger people here."
In fact, the U.S. Census Bureau reported Thursday that Smith County has one of the oldest populations in the nation: It ranks 16th in the country, with 27.9 percent of its population over age 65.
Smith County is far from alone in Kansas. The 258-page Census report, taking a national look at the aging process in the United States, painted the state as disproportionately old:
l 40 Kansas counties - more than a third - reported 20 percent or more of their populations over the age of 65; the national average is 12.4 percent.
l 23 Kansas counties were among the nation's top 80 with the highest percentage of residents over age 85. Nebraska, in second place, had just 13 ranked counties. Smith County ranked fourth in the nation in this category, with 5.47 percent of its population attaining "oldest-old" status; Osborne and Cloud Counties were right behind, ranking fifth and sixth nationally.
l 6.6 percent of Kansans over age 65 were reported to be living in nursing homes, one of the highest rates in the nation.
"It doesn't really surprise me," said Shelley Bhattacharya, a geriatrician with the Landon Center on Aging at Kansas University Medical Center. "But it changes a lot of things, as far as policy."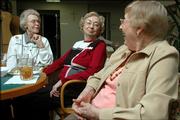 Caleb Asher, a spokesman for the Kansas Department of Commerce and Housing, said it would be a mistake to think that all people over 65 have left the work force and are a drag on the economy. The department has several programs in place to train older workers and find them jobs with new companies.
"There are people who are wanting to work longer, who are able to work longer, and we want to make sure that, if they want jobs, we can help them," Asher said.
Bhattacharya agreed. The newest generation of elderly Kansans, she said, are "more educated, they're more financially stable, they're well-traveled."
The state, she suggested, isn't quite prepared to handle the continued aging of its population.
"There's definitely a paucity of geriatricians out there, not just in Kansas but nationwide," she said. "I think we need to focus to train more, to employ more, to attract more geriatricians to Kansas."
Back in Smith County, Butler isn't hopeful for a reversal. She's turning 65 this year; her son left town awhile back for a job in Liberal.
"It's just the way it is, the way it has been," she said. "It's sad. It's too bad there isn't something to keep the young people."
Copyright 2018 The Lawrence Journal-World. All rights reserved. This material may not be published, broadcast, rewritten or redistributed. We strive to uphold our values for every story published.