KIOWA — The custom cutters have almost all moved on now. Only a few grain trucks still rattle down Main Street on the way to the elevators. The mood is as somber as the oppressive heat as harvest wraps up in this first Kansas town to cut the drought-plagued 2006 winter wheat crop.
At the OK Co-op Grain Co. grain elevator, general manager Alan Meyers talked about the impact the loss of half of the wheat crop will have on this farming community that has little else to sustain its local economy.
"Something like this hits the town really hard," Meyers said.
The winter wheat crop is worth between $16 million and $18 million to the Kiowa area.
"If you have half a crop, you take $8 million out of the community," he said, adding that the amount may not sound like a lot of money in a city like Wichita, but it really hurts a small town like Kiowa.
Meyers anticipated the local harvest will wind up with 1.5 million or 1.6 million bushels - far short of the 3.5 million bushels his seven elevators in the area normally take in.
Folks here already knew it would be bad. This area straddling the Oklahoma-Kansas border has only gotten 1.6 inches of rain, and virtually no snow, since October. If anything the crop - almost all top quality No. 1 wheat - did better than many expected. Some folks had even feared the area would harvest just a third of a normal crop this season and are grateful for even half a crop given the lack of rainfall.
OK Co-op usually hires about 50 temporary employees - mostly high school and college students - to help out during the five or six weeks of harvest. This season Meyers hired just 30 of them.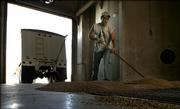 The elevator was already one permanent staffer short, and now Meyers is considering laying off another one or two more workers.
"It is hard to let longtime, permanent employees go," he said.
At another OK Co-op elevator in town, Charley Brattin, 19, was happy to have a job to come home to during summer break at Washburn University.
"It is pretty important," he said as he waited for the next grain truck to arrive. "It helps me with paying for college, paying for rent."
During harvest Brattin worked between 14 and 16 hours at the elevator, sweeping spilled grain into the bins and running some of the equipment. Usually it is a lot busier, but because of the short crop the elevator has been closing at 11 p.m. rather than the usual 1 a.m.
Kiowa farmer Bob Schrock said most of his wheat fields yielded only 20 or so bushels per acre, about half of normal yields. The higher wheat prices and crop insurance will help offset some, but not all, of his losses. He will borrow from his equity to keep farming.
"With crop insurance, it will be a bill-paying year - no profit," Schrock said.
He's already planning to take fewer unnecessary trips into Wichita this coming year, and his family will probably not take a vacation this year either.
"We are more mindful we don't have money to splurge," he said.
Down at the Chevrolet dealership on the other end of town, manager Jim Davison said if harvest is very bad or below normal it will definitely cut into his business.
"It is going to be tough for a lot of farmers and it is going to affect whether they buy new cars," Davison said.
Fewer farmers have traded in their used vehicles, and he anticipates they will buy used vehicles if they must replace one this year.
"We depend on these people," Davison said. "We are all being affected in some way."
Copyright 2018 The Associated Press. All rights reserved. This material may not be published, broadcast, rewritten or redistributed. We strive to uphold our values for every story published.