Hays — Being a typical teen isn't always a smooth road for anyone - especially when a muscle disease sets the teen apart.
But 13-year-old Ana Hertel has learned to concentrate more on her abilities than on her disabilities.
Ana has multiple pterygium syndrome, a rare genetic disorder that affects her muscles and joints. The disorder causes defects of her vertebrae, making her back crooked. Ana has had numerous surgeries to make it possible for her to move.
Because the syndrome affects her appearance and makes it difficult for Ana to do the same things her friends do, life can be a challenge at times. Nevertheless, Ana keeps her eyes on her goal of one day living an independent life and being a teacher.
Ana's interests aren't the least bit unusual for a girl her age. She takes piano lessons, enjoys church and likes going to camp and playing baseball.
"Like everyone, I prefer to be included and have the ability to participate in activities just as others my age," Ana said. "I like it when my friends call and ask me to go places.
"Even though I may appear more fragile, I like doing what others my age do," she said. "I enjoy going to the show, swimming, shopping, dancing, listening to music, chatting with my friends, singing with the karaoke machine, sleep-overs, eating with my friends and laughing with my friends."
Ana likes helping other people, too. In 2004, she received the Kansas Yes I Can! award, given by the Kansas Federation Council for Exceptional Children, in recognition for her tutoring a younger student.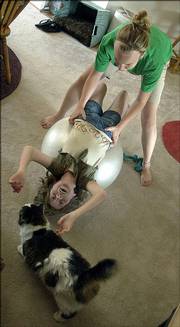 Ana's dislikes are pretty typical, too. The items on that list are homework, housework, cleaning her room and washing dishes.
Ana and her mother, Lori Hertel, recently spoke to a small group of people who came to hear them at the Hays Public Library. Their presentation was in connection with the art show "Art Abilities: Natural Talents," hanging in the gallery at the library.
"I have noticed that my friends tend to be standoffish and do not call very often or invite me to go places with them," Ana said. "People tend to stare at me wherever I go and make me feel uncomfortable. I have always been small compared to other kids my age. As a result, people think I am younger than I am."
Lori Hertel said that although parents have fantasies that their children will be "perfect" and the parents will only have to sit back and watch them grow, the reality is that parents have jobs to do.
Having Ana has taught her many lessons, Lori said. One is to be thankful for time with her children. A son, Steven Lee, born after Ana, had the same disorder. He lived only a day.
"I've learned that children are a gift that can be taken away in a split second," Lori Hertel said.
As for Ana, she has learned that along with the difficulties she faces - painful exercises, surgeries, stares and rude comments from strangers - she has been blessed in many ways. She has caring people in her life who help her, Ana said.
"Most important, I believe in myself and that I have the ability to do anything that I want to do," Ana said. "All I have to do is try."
Copyright 2018 The Lawrence Journal-World. All rights reserved. This material may not be published, broadcast, rewritten or redistributed. We strive to uphold our values for every story published.