Wichita — A man convicted of killing a Harvey County sheriff's deputy will spend the rest of his life in prison, under a sentence imposed Friday.
Sedgwick County District Judge David Kennedy sentenced Gregory Moore to life in prison with no chance of parole for shooting Kurt Ford to death during a shootout at Moore's home in April 2005. He is the first to be given that sentence under a 2004 Kansas law that allows life in prison with no possibility for parole, said prosecutor Stephen Maxwell.
"The judge imposed the maximum sentence that is appropriate," Maxwell said.
Kennedy also sentenced Moore to more than 51 years in prison for attempted capital murder, almost 13 years on each of three other attempted capital murder charges, almost 13 years for aggravated kidnapping and nine months for firearms possession.
Moore, 48, showed no emotion during the hearing.
Ford and another law officer were shot responding to a domestic violence call at Moore's home. Hesston Police Detective Chris Eilert was wounded and has recovered.
"Suffice it to say that Kurt Ford was a hero. He died a hero," Kennedy said during the sentencing hearing.
James Nelson, a friend of the Ford family, read a statement in court from Ford's twin sister, Karla Windslow, which called Moore a coward and a liar, telling him he would spend the rest of his life in prison "caged up like the animal that you are."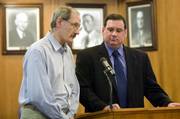 Moore didn't receive the death penalty because jurors who convicted him in June of capital murder could not reach a unanimous verdict regarding his sentence.
His daughters, 20-year-old Sarah Moore and her 17-year-old sister, Desirae, were not in court for sentencing. They had asked jurors to spare their father's life in emotional testimony that left some jurors in tears.
Their aunt, Marilyn Wooderson, said Moore's daughters were living day-by-day since the trial.
"They come visit whenever they can," Wooderson said. "They love their dad. It's real hard for them."
Also Friday, Kennedy denied a defense motion seeking a new trial.
Defense attorney Mark Manna said he was appealing the conviction because the judge did not allow the defense to present evidence from a toxicologist or argue a defense based on voluntary intoxication. Defense attorneys have said Moore was high on methamphetamine at the time of the killing.
Manna said his appeal was also based on the fact the judge did not allow jurors to consider the lesser charge of voluntary manslaughter.
As for Friday's sentencing, Manna said the judge followed standard guideline sentencing.
Even if he had received a life sentence with the possibility for parole in 40 or 50 years, it would have been unlikely, given Moore's age, that he would ever get out of prison, Manna said.
"We knew going in that in the best case scenario he was still looking at a life sentence," Manna said.
Copyright 2018 The Associated Press. All rights reserved. This material may not be published, broadcast, rewritten or redistributed. We strive to uphold our values for every story published.