Douglas County and the city of Lawrence have prepared a letter urging Kansas Department of Health and Environment to see that the former Farmland nitrogen plant site is put back to industrial use.
That is one of two goals and concerns local officials discussed in their joint letter expected to be sent to KDHE Secretary Rod Bremby.
County commissioners signed off on the letter Monday. The City Commission is to take up the matter at tonight's meeting.
The city and county will ask that KDHE make certain the environmental contamination at the site is remediated without using local tax dollars.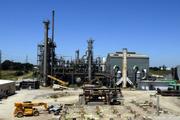 KDHE also will be asked to not allow sale of the site to a third party in a way that would cause the agency to lose control of remediation funds now held in Farmland Industries Kansas Remediation Trust. More than $7 million of the $10 million fund is earmarked for the Lawrence site.
"With respect to the future land use at the Farmland site, the city and county have said for years that they would like to see the site redeveloped into an industrial or business park," the letter states.
The city and county also want to play a role with KDHE in any controls on the use of various portions of the site.
At least two private firms have expressed interest in buying the site for redevelopment with scenarios that would include the possibility of residential and commercial uses of the property.
Copyright 2018 The Lawrence Journal-World. All rights reserved. This material may not be published, broadcast, rewritten or redistributed. We strive to uphold our values for every story published.