Lacking witnesses, a House committee investigating a conversation two senators had with a Kansas Supreme Court justice about a pending school finance lawsuit descended into partisan bickering Thursday, with a Democratic member declaring the inquiry should be abandoned.
Conservative Republicans who control the committee quickly squashed such talk. They said unanswered questions remain about a March 1 luncheon conversation Senate President Steve Morris, R-Hugoton, and Sen. Pete Brungardt, R-Salina, had with Justice Lawton Nuss, even as the Kansas Supreme Court retained control of a case in which it had told the Legislature to spend more money on public schools. Justices are prohibited from having private discussions with interested parties about pending cases.
The panel's work probably will continue into October.
As part of its inquiry, the committee is gathering evidence about conversations Morris had with others about his contact with the court regarding school finance.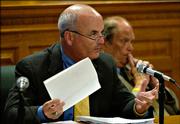 GOP committee members still want to ask Democratic Gov. Kathleen Sebelius questions about what she heard. During a late March breakfast meeting at the governor's residence, Morris mentioned he had had contact with the court.
But Rep. Mike Peterson, D-Kansas City, said Atty. Gen. Phill Kline, a Republican, was more involved than Sebelius in the Nuss case, having investigated it and taken statements from senators in April.
Rep. Jan Pauls, D-Hutchinson, added that committee Chairman Mike O'Neal, R-Hutchinson, also should be a witness because he discussed the case with senators before it became public knowledge.
Rep. Jim Ward, D-Wichita, who called for the committee to end its investigation, suggested Republicans were trying to drag it out, hoping to create an issue to hurt Sebelius' re-election bid this year.
"I really thought that was their goal all along - just to keep things stirred up," Ward said after the meeting.
O'Neal said he had no problem with being questioned and that he has always hoped the committee would issue a report quickly.
"If I say, 'white,' they're going to say, 'black,"' O'Neal said of the Democrats. "They're injecting politics into it every chance they get."
Morris and Brungardt have refused to testify before the House committee, citing a provision of the Kansas Constitution declaring legislators "shall not be questioned elsewhere" for what they say and write while debating issues.
Also declining to testify are Senate Minority Leader Anthony Hensley, D-Topeka, and Troy Findley, the governor's chief of staff, both participants in the breakfast meeting at the governor's residence. Democrats have protested the idea of even sending Sebelius written questions.
The committee has the power to subpoena witnesses but still hopes eventually Morris, Brungardt and others will testify voluntarily.
"I'm not interested in having any kind of huge confrontation," said Rep. Lance Kinzer, R-Olathe.
Nuss removed himself from the school funding lawsuit in April, after a reporter asked the court whether any member or employee had contact with legislators. He still faces a judicial ethics inquiry, with a hearing scheduled for Aug. 10 - one reason the House committee won't finish its work until fall.
The Kansas Supreme Court has yet to rule on whether a three-year, $541 million plan approved this year meets constitutional muster.
Ward said the committee has learned nothing new since the Nuss conversation became public in April. He said the evidence that the March lunch was the only contact between the court and legislators on school finance is overwhelming.
"This committee has added nothing to the information base," Ward said. "I think what we should do is adjourn this committee."
Kinzer responded, "I can't let that pass."
He and other conservative Republicans - who have criticized the court over its orders - point to inconsistencies in Morris' version of events and what other senators have said Morris told them.
Other senators told the committee last month that Morris said he talked with an employee of the court, suggesting, Kinzer said, that Morris either lied to them or he had more than one discussion with the judiciary.
When Democrats said the committee has no evidence any senators were intimidated into voting a certain way by the Nuss conversation, O'Neal replied that Morris was influenced.
"That is enough," he said.
Copyright 2018 The Associated Press. All rights reserved. This material may not be published, broadcast, rewritten or redistributed. We strive to uphold our values for every story published.