The man was buried in Sweden with a dog laid out across his legs.
It could have been yesterday, but that burial site actually dates back 7,000 years to the Mesolithic period.
"It's a social bond," Kansas University professor Darcy Morey said of the relationship between humans and dogs, the study of which is his area of expertise. "It just keeps going. It's an amazing thing."
Morey, an assistant professor of anthropology, recently published his research on man's best friend in the Journal of Archaeological Science. Among other things, his research shows that pet cemeteries are no recent invention but have existed for eons.
It reveals the poignant connection between humans and dog and adds to the debate over when the dog was first domesticated.
Buried meaning
To unearth the relationship of dogs and humans, Morey surveyed how dogs were treated after death in earliest times.
"Nothing," he wrote in his paper, "signifies the social importance that people have attached to dogs more conspicuously than their deliberate interment upon death."
There are burial sites on every continent, except Antarctica, where the ground surface makes burial practically impossible.
Morey's map of dog burial sites includes spots in current-day Greenland, Sweden, Sudan, Siberia, Japan and the United States, including Alaska. Some date back 14,000 years.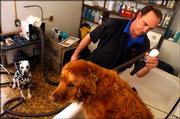 "He's done a major yeoman's task in pulling together this material and showing what is virtually a worldwide phenomenon," said Mark Derr, freelance writer and author of books about dogs.
The graves are similar in the deliberate care put into burying each dog.
"It seems clear that they are about as close to being considered a person as a nonhuman animal can be," he wrote.
In one grave site in what is present-day Israel, an elderly person was buried with a hand lying on the body of a puppy. The bones are between 11,000 and 12,000 years old.
At Indian Knoll in Kentucky, which dates 3500 B.C. to 2500 B.C., there are many buried dogs. In one grave, two dogs were buried with children.
Another site in Israel, called Ashkelon, dates back to the Persian era and includes about 1,000 dogs buried individually in a sort of dog cemetery.
There is no sign of abuse, Morey said. But it is difficult to determine why the dogs were buried as they were.
"That's the K-9 conundrum," he said. "It's just not clear what's going on there."
In some cases, it appears that dogs were killed when a person died in order to be included in the grave. Morey believes dogs held a spiritual status.
Domesticated debate
But dogs have seen other fates. Sometimes they've been eaten for food, skinned for their furs or sacrificed. But, as Morey points out, people also have sacrificed each other.
Morey's research disputes some genetics research that has suggested dogs have been domesticated for at least 100,000 years. Archaeology suggests that domestication occurred within the past 14,000 years, Morey said, adding that there is no physical "hard" evidence indicating it happened earlier.
"We'll see whether he's correct or not," Derr said. "That's the fun part."
Special dogs
Morey did not ignore cats. Ancient Egyptians mummified cats and buried them in cemeteries. And several thousand years earlier, cats were buried in Cyprus.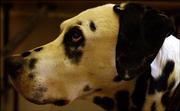 But Morey calls cat burials a "localized phenomenon" not as widespread as dog burials. Why? Wolves and dogs are pack animals that hunt by day, Morey said, while cats are solitary and hunt mostly at night.
Morey's research shows the deep ties between humans and dogs - from prehistory to today.
"It's a mutual thing," he said. "Dogs do not get along well without people. It's a real domestic relationship. : When they're deprived of it, they don't fare well."
It's a bond that Cedric Devin, owner of Christal K-9 Inc. in Lawrence, knows well.
"When you see that wagging tail and that smiling face, it brings a little joy into that tough day," he said.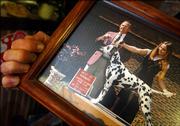 And there's an "internal bond" that he can't easily explain.
"It's almost an intrinsic thing that's hard to describe," he said.
Copyright 2018 The Lawrence Journal-World. All rights reserved. This material may not be published, broadcast, rewritten or redistributed. We strive to uphold our values for every story published.