He now leads the corporation that includes Travelocity.com, but at one time Sam Gilliland was a Kansas University engineering student.
"It was a little over two decades ago that I participated as an electrical engineer in the Engineering Expo at KU," Gilliland said Friday.
Gilliland, a 1985 KU alumnus, is chairman and CEO of Sabre Holdings, the parent company for Travelocity. He was the featured speaker Friday for the kickoff of Engineering Expo.
The annual open house geared toward young people continues today at KU's School of Engineering.
Gilliland told the crowd of more than 700 about the key elements of Travelocity's service and a bit about his climb to the top.
He once started his own company, which failed, he said. He also developed hardware and software for land- and air-based defense systems for Lockheed Missiles and Space in Austin, Texas. He was group president of the company's Airline Solutions business and a senior vice president and general manager of product marketing. He now leads Sabre Holdings.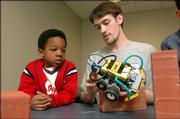 "You can really do anything with an engineering degree," Gilliland said.
Later, the young people gathered at KU's Learned and Eaton halls for competitions and other activities.
Laura Garinger, an eighth-grader at West Junior High School, made several rounds through the infrared hide-and-seek exhibit.
"It's awesome," she said while waiting in line for the game where students run through a maze and tag one another with infrared beams.
Garinger said both of her parents have engineering degrees and would like her to follow in their academic footsteps.
"But I prefer acting," she said.
Copyright 2018 The Lawrence Journal-World. All rights reserved. This material may not be published, broadcast, rewritten or redistributed. We strive to uphold our values for every story published.