Lansing Correctional Facility personnel had no reason not to trust Toby Young, founder of the prison's canine rescue program.
Since August 2004, when she founded the Safe Harbor Prison Dog program at the prison, Young has been a regular visitor to the Lansing prison's maximum-, medium- and minimum-security areas.
Now, however, a warrant has been issued for Young's arrest. State corrections officials think she helped convicted murderer John M. Manard, 27, escape from the prison's medium-security unit Sunday by funneling him out in the Safe Harbor van.
The Kansas Highway Patrol broadcast an advisory to officers that Young was considered armed and dangerous, said patrol spokesman Gary Warner.
"We believe that she was driving the van at the time that it left, and he was in the van at the time," Bill Miskell, a spokesman for the Kansas Department of Corrections, said at a news conference Monday evening at the prison.
Warrants issued
Miskell said investigators at the prison had pieced together enough information to determine that Young had a hand in the escape.
"During the course of this investigation, since about 4:30 yesterday afternoon, we were able to develop sufficient information to present to the Leavenworth County attorney that he issued warrants for her arrest," he said.
Young was charged with aiding and abetting aggravated escape and aiding a felon. The prison said the charges were based on information obtained during the investigation into Manard's escape, but did not provide additional details.
Authorities are on the lookout for a white 1998 Ford F-150 cargo van with Kansas personalized license plates SHDOGS from Wyandotte County. The van has the lettering www.SafeHarborPrisonDogs.com and the company's "Safe Harbor" logo printed on the driver's side; the telephone number 913-219-0297 and "Where Dogmanity Began ..." printed on the passenger side.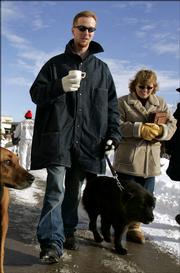 "That's a very, very distinctive van," Miskell said. "If anyone sees it, we ask them to contact their local law enforcement or the Lansing Correctional Facility" at (913) 727-3235.
Safe Harbor program
Young has been president of the Safe Harbor Prison Dogs program since its founding. Currently nearly 50 dogs are in the program, which receives dogs from animal shelters across northeast Kansas and matches them with inmates who feed, groom and socialize the dogs to improve their chances of being placed in a new home.
Manard has participated in the program for about a year, Miskell said.
In a December 2005 Associated Press photo, Manard is seen walking a dog with a smiling Young following close behind. "If you can harness their aggressiveness, you can save their lives," he said in an interview for a story about the program. "This is a way of life for me. It's all I got."
Young, a Piper resident, is married. Her family directed questions to prison officials.
Miskell said the news about Young - who is described as a 48-year-old white female, 5-foot-1, 130 pounds with brown hair and brown eyes - had shaken the Lansing prison staff.
"I think staff here at the facility are still trying to grasp what has happened," Miskell said. "You're right, Toby Young was well-known by staff, well-liked by staff. She had been around for, as I say, about 18 months working through the Safe Harbor Prison Dog program, a very positive program."
What Manard was doing Sunday, what Young was doing Sunday and whether the van was searched before it left the prison have yet to be determined, Miskell said.
"Vehicles are routinely searched; that's one of the things that's being investigated at this time," he said.
Life sentence
Manard is described as a white male, 6-foot-2, 190 pounds, with red/auburn hair and hazel eyes. He was serving a life sentence for first-degree murder, aggravated robbery and possession of firearms in the killing of Donald England in Johnson County.
England, 45, was sitting his car in an Overland Park strip mall parking lot on June 13, 1996, when Manard and another teen, Michael Yardley, of Edgerton, tried to steal the vehicle. England, a father of two, was pulled from the Chrysler convertible and shot in the chest.
Manard and Yardley, who were 17 and 18 when the murder occurred, were sentenced in 1997 to life in prison. It was never officially determined who pulled the trigger.
Miskell said authorities had no idea where the fugitives were headed.
Reports that the van was seen Sunday night near the Kansas Turnpike in Wichita proved unfounded. Other unrelated reports of sightings of Young and Manard on Monday in Johnson County could not be corroborated.
"We don't know where the van is. We don't know where Manard is, and we don't know where Toby Young is. We want to find all three of them." Miskell said.
Copyright 2018 The Lawrence Journal-World. All rights reserved. This material may not be published, broadcast, rewritten or redistributed. We strive to uphold our values for every story published.