Topeka — A special prosecutor picked by Attorney General Phill Kline to pursue criminal charges against the state's most visible abortion provider learned Thursday that he'll lose his job after Kline leaves office Jan. 8.
That announcement from Kline's successor, Paul Morrison, came only a day after Kline appointed Wichita attorney Don McKinney to handle the case against Dr. George Tiller, who has received national attention as one of the few doctors in the United States who performs late-term abortions.
McKinney said in a statement that he wouldn't respond: "I don't have time for political posturing. I have work to do."
Kline alleges Tiller performed 15 illegal late-term abortions in 2003, for patients aged 10 to 22, and failed to properly report details about them to state health officials. Tiller's attorneys call those allegations groundless.
The outgoing attorney general filed 30 misdemeanor charges against the doctor last week in Sedgwick County District Court, only to see a district judge dismiss them, then refuse to reinstate them Wednesday.
An abortion rights Democrat, Morrison defeated Kline, a Republican and strong abortion opponent, in the November general election. McKinney was leader of a Democrats for Kline group, and he's viewed as a strong abortion opponent.
Morrison said he's not inclined to have a special prosecutor handle any investigation of Tiller, but if he decides to do so, "It certainly won't be Mr. McKinney."
"He is extraordinarily political and, in my opinion, would absolutely not present any kind of independent perspective," Morrison said in a telephone interview.
'Stranger and stranger'
Meanwhile, Gov. Kathleen Sebelius criticized Kline's actions in the investigation.
"The story just continues to get stranger and stranger," Sebelius said in response to questions from reporters.
Asked if she thought Kline's actions were appropriate, Sebelius said, "I think what the judge found is that he did not follow the law, he did not abide by the steps that needed to be taken."
Sebelius, a Democrat and abortion rights supporter, said she looked forward to Jan. 8 when Morrison would take over the job.
Of Morrison, she said: "He is capable of sorting this out and figuring out how to move forward. It is just how messy can it get in the next 10 days before he takes office?"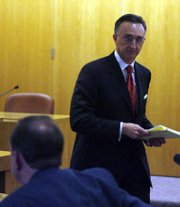 Kline didn't respond Thursday to Morrison's comments.
Mary Kay Culp, executive director of Kansans for Life, the state's largest anti-abortion group, said she was shocked by how quickly Morrison declared that he wouldn't retain McKinney.
"I've been disappointed by him a lot, but it's especially disappointing that he would claim a fellow Democrat is unqualified because he happens to be pro-life," Culp said. "Being pro-life should never disqualify you as an elected official from bringing charges that happen to deal with this issue. It can't influence the credibility of the evidence. Evidence is evidence."
And McKinney said in his statement that Kansans have enacted laws "to protect babies that are about to be born."
"Those laws restrict the abortion of late-term babies to very specific medical circumstances," he said. "Those laws need to be enforced and not winked at."
'Kline campaigner'
But Tiller's attorneys argue that Kline isn't capable of fairly evaluating evidence involving Tiller, given his anti-abortion politics. One of them, Dan Monnat of Wichita, called McKinney "a former Kline campaigner and anti-abortion activist."
During the campaign, McKinney publicly criticized a newspaper when he thought it wasn't being aggressive enough in pursuing 15-year-old, unproven allegations of sexual harassment against Morrison from a former employee. McKinney later said the allegations reflected on Morrison's character, though two federal lawsuits filed by his accuser were dismissed and she received no money.
And Cheryl Sullinger, a spokeswoman for the anti-abortion group Operation Rescue, told The Wichita Eagle she has seen McKinney within the past year outside Tiller's clinic "praying for the babies."
Tiller has been a special target of abortion opponents for two decades, and his clinic has been the site of large protests. It was bombed in 1985, and a protester shot him in both arms in 1993.
"I would say no effort was made to find an independent prosecutor," Monnat said.
Campaign finance records show that funds from Tiller, passed through an abortion rights political action committee, helped finance at least $248,000 worth of mailings and radio ads aimed specifically at defeating Kline in 2002 and 2006. That has led abortion opponents to question whether Morrison will aggressively pursue evidence of wrongdoing by Tiller.
"I definitely question whether he can look at the evidence independently," Culp said of Morrison.
Morrison and his aides repeatedly have said the incoming attorney general will assess the evidence about Tiller before deciding whether to prosecute.
"I believe I was elected attorney general to use my judgment," Morrison said Thursday. "I'm not in anybody's camp on this deal, and I never have been."
Legal battles
There's also a question of how much power McKinney would have, even if Morrison were to retain him, thanks to judicial decisions in Sedgwick County that have so far blocked Kline's attempt to prosecute Tiller.
As part of his investigation of Tiller and a Planned Parenthood clinic in Overland Park, Kline waged a successful two-year legal battle to obtain the medical records of 90 patients, prompting the clinics to ask the Kansas Supreme Court to appoint a special prosecutor and seize the records.
The Supreme Court later rejected the request, but a day after the election, with the issue still pending, Morrison told reporters, "It probably wouldn't be a bad idea to have a party that is, everybody agrees, neutral, perhaps appointed by the court."
On Thursday, Morrison was skeptical of the attorney general appointing a special prosecutor.
"I generally don't shirk my responsibilities by handing them off to somebody," Morrison said.
Copyright 2018 The Associated Press. All rights reserved. This material may not be published, broadcast, rewritten or redistributed. We strive to uphold our values for every story published.