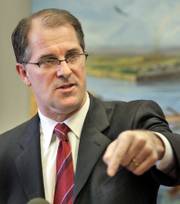 In a political and legal whirlwind Friday, Attorney General Phill Kline filed misdemeanor criminal charges against nationally known abortion doctor George Tiller, only to have the charges dismissed after the local district attorney cried foul.
Sixteen days from leaving office after getting trounced at the polls in November, Kline, an ardent opponent of abortion, vowed to press on in the investigation.
"We will exhaust all legal efforts," Kline said at a news conference. "Justice requires that we pursue what the duty of this office is."
Tiller's attorneys called Kline's attempt a desperate act on his way out as attorney general.
"The filing of criminal charges by Phill Kline is the last gasp of a defeated and discredited politician," Lee Thompson and Dan Monnat said in a prepared statement.
Busy day in court
Here is the sequence of events:
Late Thursday, Kline and his top assistants traveled to Wichita, where Tiller's clinic is located, and filed 30 misdemeanor charges against Tiller, accusing him of performing illegal late-term abortions.
State District Court Judge Eric Yost issued a summons for Tiller to appear in court on Wednesday to answer the charges, which carry a penalty of up to one year in prison for each count.
By early Friday afternoon, Sedgwick County District Attorney Nola Foulston stepped into the fray.
She asked State District Court Judge Paul Clark to dismiss the case because she said Kline had no authority to file the charges because he failed to consult with her office.
"The district attorney does in fact object to any such filing by the attorney general as he lacks the legal authority to file such complaint in this jurisdiction," Foulston said.
Clark agreed and dismissed the case.
By late Friday, Kline had dispatched an assistant by plane to find Clark to file an emergency motion for reconsideration. If unable to find the judge, Kline said he would seek an appeal next week. Kline also said he had consulted with Foulston. Foulston did not return a phone call for comment.
Three-year probe
The roller coaster of activity stemmed from Kline's nearly three-year investigation into clinics operated by Tiller and Planned Parenthood in Overland Park.
Kline said he has been investigating allegations of sex offenses against minors and illegal abortions. The clinics have denied any wrongdoing and said Kline has been on a fishing expedition.
The once-secret probe has gained national attention, and was seen as a major factor in Kline's defeat at the polls last month.
The winner, Democrat Paul Morrison, accused Kline of abusing his authority in the investigation. Tiller has long been a heavy political contributor opposing Kline.
After Morrison defeated Kline, he asked Kline to hold off on any legal actions in the investigation. Morrison said he would examine the case when he took office Jan. 8.
The allegations
But Kline didn't hold off, filing charges that allege violations of Kansas abortion laws.
The allegations concern 15 late-term abortions in 2003 to females aged 10 to 22.
Under Kansas law, late-term abortions are allowed only if the physical or mental health of the mother is in jeopardy.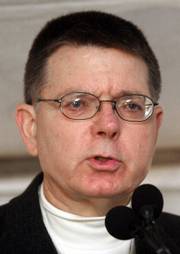 In most of the abortions at issue, Tiller and a second doctor listed as justification for the abortion "major depressive disorder, "single episode," or "acute stress disorder," according to Kline.
Kline said those justifications don't fit the law's exemption that refers to "substantial and irreversible impairment to a major bodily function of the mother."
But Tiller's attorneys disputed Kline, saying, "A review of the charges makes clear that Phill Kline continues to belittle the role of a woman's mental health in her decision to terminate a pregnancy. Whether he likes it or not, the U.S. Supreme Court has held to the contrary," they said.
Kline responded, saying, "I would anticipate that any case like this is going to flush out a lot of constitutional issues."
Sides react
Remarking on the turn of events after the charges were dismissed, Mary Kay Culp, director of the state's largest anti-abortion group Kansans for Life, said, "When the issue is abortion, all the rules change. Nothing ever surprises me."
Abortion rights advocates, however, said it was Kline who wasn't following the rules.
"This is about Phill Kline's personal problem with women's right to control their own health care decisions," said Marla Patrick, state coordinator of Kansas NOW.
Copyright 2018 The Lawrence Journal-World. All rights reserved. This material may not be published, broadcast, rewritten or redistributed. We strive to uphold our values for every story published.