Topeka — Gov. Kathleen Sebelius refused Wednesday to endorse recently defeated Attorney General Phill Kline's selection as Johnson County district attorney, but Kline's appointment became official nevertheless.
Kline, a Republican, will replace Paul Morrison, the Democrat who ousted him from statewide office, as the top prosecutor in the state's most populous county.
State law denied Sebelius the power to block Kline's appointment once GOP activists in Johnson County settled on it. However, it is unusual for a governor to forgo the formality of signing a certificate of appointment.
The Democratic governor said she refused "out of a deep and enduring respect for the will of the people." In the Nov. 7 general election, Kline received 41 percent of the vote statewide but only 35 percent in Johnson County.
"I do not believe such a clear majority of Kansans rejected Kline's stewardship as attorney general with the intention of seeing him continue a public career in law enforcement paid for by taxpayers," Sebelius said in a written statement.
Party switch
The unprecedented Kline-Morrison job switch was possible because Morrison won five terms as district attorney as a Republican, then switched parties to challenge Kline. State law gave the GOP the right to fill the district attorney vacancy, and a narrow majority of 600-plus precinct committee members chose Kline on Dec. 11.
Kline refused to comment about his appointment as district attorney. Spokesman Jan Lunsford said Kline was declining requests to be interviewed about his future. He expects to take office as district attorney Jan. 8, the day his term as attorney general ends.
Eric Rucker, Kline's chief deputy - who plans to follow Kline to Johnson County - dismissed Sebelius' comments as "cheap partisanship," noting that during his campaign Kline was endorsed by a majority of the state's sheriffs and other law enforcement groups.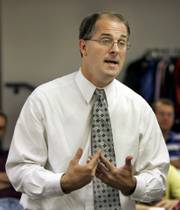 Before Kline's appointment, Sebelius had said Republicans should base their choice on the candidates' credentials as prosecutors, not politics. Republicans chose Kline over Steve Howe, an assistant district attorney with 18 years' experience as a prosecutor.
Kline has not served as a county prosecutor, and as attorney general, he didn't try criminal cases in district court. Morrison regularly handled his office's most high-profile criminal cases, such as the 2002 trial of John E. Robinson Sr., who was convicted of multiple murders and sentenced to death.
'Give me a break'
But Scott Schwab, the county's GOP chairman, said Sebelius was being a hypocrite, because her only reasons for not signing off on Kline's appointment were political.
"The queen of politics is telling the Republicans not to be political? Give me a break," Schwab said in an interview. "What else does she have to gain? Just sign it and get it over with."
Kline had strong support from anti-abortion activists, which was not surprising, given his longtime and vocal opposition to abortion. They also backed him in his successful two-year legal battle to obtain the records of 90 patients from two abortion clinics, including one in Overland Park operated by Planned Parenthood of Kansas and Mid-Missouri.
Mary Kay Culp, executive director of Kansans for Life, the state's largest anti-abortion group, said Sebelius has no room to complain about Kline's appointment because she was instrumental in persuading Morrison to switch parties.
"Anybody who has a complaint should call her and complain," Culp said. "She's the one who created the job opening to begin with."
No performance doubts
Culp said she expects the criticism of Kline's appointment to die down, once "people see that he's going to do a competent job."
"The fears of him are blown way out of proportion, as far as job performance," Culp said.
Schwab said he has no doubts that Kline will be a good prosecutor, though he questions the political wisdom of the GOP's choice. For many Republicans, he said, it was a favor to Kline and a message to abortion rights activists.
"They sacrificed every political chip they had," Schwab said. "It wasn't a smart political decision at all. It was about what they personally thought was right, and they didn't care about the political consequences, which were extremely high."
Schwab said he has heard widespread criticism of the appointment.
"Am I excited that this happened? Absolutely not," he said. "Am I worried that he is going to be a lousy DA? Absolutely not."
Abortion records probe
Kline's pursuit of the abortion clinic records became a political liability when Morrison and other Kline critics portrayed it as an invasion of patients' privacy. They accused Kline of being on a fishing expedition driven by his anti-abortion views.
Sebelius, an abortion rights supporter, said, "The people of Kansas made a strong and unequivocal statement about Phill Kline's fitness for law enforcement and his pursuit of misguided, personal priorities in public office."
But Kline said repeatedly he pursued the records as part of a broader investigation into possible crimes, including illegal late-term abortions and doctors' failure to report suspected child abuse as required by law.
The clinics have repeatedly said they have committed no wrongdoing and the records contain no evidence of any crimes.
Culp said if Kline - or any prosecutor - wins a conviction against an abortion doctor, "Then there'd be some vindication."
Copyright 2018 The Associated Press. All rights reserved. This material may not be published, broadcast, rewritten or redistributed. We strive to uphold our values for every story published.