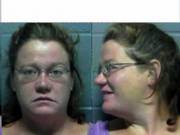 Police on Thursday said they were looking for a Lawrence woman in connection with a shooting in Ottawa that seriously injured a witness hours before he was scheduled to testify in a criminal trial.
Ottawa police are looking for Lisa K. Winter, 38, as a "person of interest" in the shooting Tuesday night in the 1500 block of South Hickory Street in Ottawa. The shooting victim, 48-year-old Michael S. Miller, of Ottawa, was shot numerous times with a small-caliber handgun and found in the street at 10:38 p.m. Tuesday.
Miller was expected to testify at an aggravated-battery trial the next morning in Douglas County District Court against a Lawrence resident, Louis G. Galloway, 43.
Police are not calling Winter a suspect in the shooting. According to police, she is 5 feet 6 inches tall, weighs about 180 pounds, has brown hair and blue eyes. She sometimes wears glasses and is known to frequent downtown Lawrence, police said.
Galloway, who has been in the Douglas County Jail in recent weeks, is charged with battering Miller in September 2005 in an alleged home burglary at Miller's former address, an apartment at 1200 N.Y. His trial was rescheduled for Jan. 9 following this week's shooting.
Police say Miller is in serious condition at an undisclosed hospital.
"All that I've heard is that his condition has been stable. It's been staying about the same," Ottawa police Capt. Randy Allan said. "We won't be able to talk to him for another day or two, but everything seems to be going well."
Police ask anyone with information on Winter to call the TIPS line at (888) 311-8477 or the Ottawa/Franklin County dispatch center at (785) 242-1700.
Copyright 2018 The Lawrence Journal-World. All rights reserved. This material may not be published, broadcast, rewritten or redistributed. We strive to uphold our values for every story published.