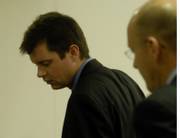 A Lawrence man charged with killing a Kansas University student in a hit-and-run wreck earlier this year made a brief first appearance Monday in Douglas County District Court.
Joshua I. Walton, 24, stood before Judge Pro Tem Peggy Kittel long enough for her to assign his case to another judge and to schedule his next court date. Walton will appear Jan. 9 before Judge Robert Fairchild to set a date for a preliminary hearing.
Walton is charged with involuntary manslaughter while driving under the influence and with leaving the scene of the accident. Prosecutors allege he struck and killed KU student Ryan Matthew Kanost, 22, shortly after 1 a.m. Sept. 23 as Kanost tried to walk across Kentucky Street at 13th Street.
"Joshua and his family extend their deepest sympathy to the young man's family," Walton's attorney, Thomas J. Bath Jr. of Overland Park, said after the hearing.
Bath said that Walton has fully cooperated with police since he turned himself hours after the wreck for questioning. He was released at the time, then booked into jail Dec. 4 after prosecutors filed charges against him.
He remains free on $25,000 bond.
Bath said he picked up police reports on the case Monday.
Copyright 2018 The Lawrence Journal-World. All rights reserved. This material may not be published, broadcast, rewritten or redistributed. We strive to uphold our values for every story published.