Family and friends of Ryan Kanost said he was extremely intelligent and headed for bigger things, including medical school.
But the 22-year-old Kansas University senior was struck and killed early Saturday while crossing the intersection at 13th and Kentucky streets. Witnesses said the car that hit him sped away without stopping.
Friends and witnesses said about 1 a.m. Kanost was walking with three other friends from Gertrude Sellards Pearson Hall, 500 W. 11th St., to a friend's house near 14th and Kentucky streets.
They looked to the right before crossing the one-way street and saw a car that seemed to be in the distance; the car changed lanes once but appeared to be speeding, said Brandon Seitzer, Kanost's roommate, who was with him when he was struck by the car.
Enoch Jennison, who graduated from KU in May, said he was with a different group at the intersection but also witnessed Kanost's death.
Jennison said he was crossing Kentucky Street about one-third of a block north of 13th and Kentucky streets. He looked to the south and saw a few people crossing Kentucky Street from west to east at the corner of 13th Street. He saw several people in the east lane of the one-way street and one person walking behind them in the west lane, when a car approached "very quickly" and struck Kanost with the front right side of the vehicle.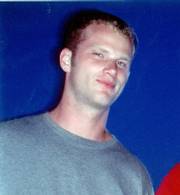 "He was sent head over heels very quickly, pretty much in our immediate direction. He was sent very far as well," Jennison said.
He called 911 after trying to help Kanost, who was not breathing, he said.
The accident was "horrifying," Jennison said. "I don't think the car even slowed down to what the appropriate speed limit was before speeding off again. He was not driving aware. He was driving way too fast, and he failed to yield to pedestrians."
Kanost's roommate agreed the driver was reckless.
"How fast the driver was going, nobody should drive that way at one o'clock in the morning," Seitzer said.
Caring nature
Kanost's death left friends and family shattered.
"We had always been very close, particularly because he wanted to make himself part of my life and help me in every way that he could," said Ryan's brother Nathan, of Lawrence. "Helping is what made him happy."
"He was just on the road to helping so many people and doing so many beautiful things," said Ned Epps, a KU senior from Manhattan who knew Kanost more than nine years.
Friends and roommates said Kanost had a dry sense of humor and a caring nature. He had coached fifth and seventh grade basketball teams for several years. He had also worked as an after-school supervisor at South Junior High.
Scott Emery, a KU senior, said he and Kanost were best friends. They grew up together in Manhattan and came to KU together.
"He was just the best person that I've ever known," Emery said. "He was really selfless, and he was always doing what he could to help anybody out. He put his neck on the line for me so many times."
'The nicest guy'
Seitzer said he knew Kanost for almost two years. Kanost was taller than 6 feet and could hold his own on the basketball court, he said.
"He was the nicest guy. He didn't have an enemy in the world," he said.
Epps, a high school and college friend, said Kanost was a supportive friend who attended his art shows and concerts.
"He was so important to his friends and important to his family. He was just a big part of everyone. He would help everyone out," Epps said.
His siblings said he was witty and taught his youngest sister, Leah, a Manhattan High School senior, to play the guitar.
"It was often hard for me to eat a meal with him because he would make me laugh so hard I would almost choke," said another sister, Laura, a KU graduate student.
Ryan Kanost was a biology student and son of Jill and Michael Kanost, a distinguished Kansas State University biochemistry professor.
Ryan Kanost had planned to attend medical school.
He had volunteered for the past year in the Lawrence Memorial Hospital Emergency Room, where he helped transport patients and specimens and cleaned rooms and made beds.
Hospital staffers said he was eager to learn, smart, nice, polite and professional.
"It's horrible no matter who it is, but it's that much harder when it's somebody that you know," said Karin Feltman, the emergency room's volunteer coordinator. "It's really a shame because he was such a good person."
His best friend, Emery, said Kanost's easygoing temperament came through once when Emery dented Kanost's first car when they were in high school. Kanost did not react harshly.
"He was just trying to make sure I didn't care about it" and never fixed the dent anyway, Emery said.
Lawrence Police identified Kanost on Monday but said little else about his death. No accident report was available from them Monday. Nor did police identify the driver of the car, who was located later Saturday.
Douglas County Dist. Atty. Charles Branson said police were still investigating the accident and had made no arrests. He said police had a "person of interest" and had recovered the vehicle.
Copyright 2018 The Lawrence Journal-World. All rights reserved. This material may not be published, broadcast, rewritten or redistributed. We strive to uphold our values for every story published.