Topeka — Kansas is gaining ground, and not in a good way.
The state's lakes and reservoirs are filling in with sediment, sometimes at alarming rates, and that could mean hundreds of millions of dollars in dredging costs.
The Kansas Biological Survey at Kansas University has been hired as part of a $60,000 pilot project by the Kansas Water Office to determine the scope of the problem, using a high-tech echo sounding system to measure the depth of lakes and the amount of sedimentation.
"There is just this crying need for information on reservoirs for this state," said Mark Jakubauskas, research associate professor at the Biological Survey and team leader for the reservoir assessment initiative.
Determining the water storage capacity at lakes can help in planning for communities that depend on the lakes for recreation, drinking water and flood control, he said.
The reduction in depth and surface of public water supplies also can promote the growth of blue-green algae, which can cause odor and taste problems in drinking water.
Using a system that sends sound waves to the bottom of a lake, Biological Survey scientists ply waters in a specially equipped pontoon boat. They have already surveyed Olathe, Carbondale, Gardner, Lone Star and Dabinawa lakes. The team also will map Wabaunsee Lake and John Redmond Lake.
The system can take 40,000 depth measurements in two hours to make extremely detailed maps of a lake bottom. The system also can measure the thickness of the sediment and even put together an inventory of fish species.
Photo Gallery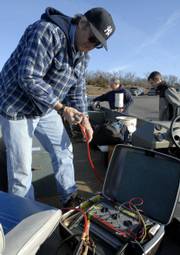 Lake Depth
Sedimentation is caused by soil erosion from farmlands and construction sites that flow downstream and collect on the floor of lakes.
"Sedimentation is a natural occurrence, and it is one of the biggest challenges we have," said Hank Ernst, a spokesman for the Kansas Water Office. "It's better to know your situation."
Many upper reaches of Kansas lakes and reservoirs have become mud flats. Estimates indicate Lake Perry's storage capacity has decreased 23 percent in 32 years, which is evident in the north end where there are trees and grasses.
State Rep. Tom Sloan, R-Lawrence, who was instrumental in moving funds to programs that address problems with drinking water lakes, said the information derived from the Biological Survey mapping was crucial.
In addressing problems of sedimentation, "you have to know what the lakes look like," Sloan said.
Plus, he said, the mapping could help develop strategies to reduce the impact of sedimentation. For instance, he said, dredging can be done in one area of the lake to catch sediment.
"Kansas soils are very light and will always be carried by water," he said. "Through mapping, we could have the capability of developing sediment pools and dredge out a hole to get the sediment there, and address the problem in a more confined area."
The state also is involved in developing buffers of vegetation on stream banks that help prevent sedimentation from flowing into Kansas' system of man-made lakes.
"We don't have a lot of natural places for lakes; Mother Nature just wants to fill in these spots," Jakubauskas said.
Copyright 2018 The Lawrence Journal-World. All rights reserved. This material may not be published, broadcast, rewritten or redistributed. We strive to uphold our values for every story published.