Mud, muck and unruly vegetation surround a boat ramp that, at one time, slipped into the waters of Perry Lake. Now, at the north end of the lake, mud flats occupy what used to be a park area.
"What 20 to 30 years ago was open water is covered with trees now," said Earl Lewis, operations manager for the Kansas Water Office. "It will eventually reclaim that land as wild land at some point. It's just a matter of time."
This rising land at Perry comes from sedimentation, which is a collection of solid particles, known as sediment or silt, that runs off the land and into rivers and streams. As water enters the lake, it carries silt with it, which builds up at the upper end of the lake. Eventually, it forms a big mud flat, and then grasses, weeds and trees start growing where waves once broke.
Fifteen miles southeast of Perry Lake lies Clinton Lake, another body of water put there not by nature, but by a man-made dam constructed in 1977. The evidence of rising muck and mud is not as severe at Clinton as it is at Perry, but scientists say Perry may offer a glimpse of what Clinton could become.
Like Perry, Clinton Lake is silting up faster than original designs projected. But experts disagree just how quickly the mud is rising.
"The lake is in good shape for the next 35 to 40 years," Lewis said. During that time, he said, the lake would meet the water supply demand for the community.
Larry Kipp, a Lawrence resident, did a study in 2000 about water supply and population growth in Lawrence. For his study, Kipp looked at published data about sediment in Clinton from the Kansas Water Office and the Army Corps of Engineers surveys. Based on that, he told the Lawrence City Commission in 2001 that Clinton Reservoir was silting in five times faster than originally anticipated. He said that the best-case scenario was that water demand would exceed supply in about the year 2030.
Photo Gallery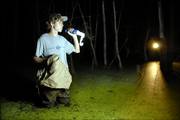 Frog Hunting
"It's a politically sensitive topic," Kipp said. "People don't want to face the idea that we've actually got a downward projecting water resource in Douglas County."
Kyle Juracek, a research hydrologist at the U.S. Geological Survey, said that about 6 percent of the original water storage capacity of Clinton Lake has become full with sediment, as of 2005.
"That will tell you that the lake is going to be around for a long time," Juracek said.
There is still a lot of uncertainty involved, Juracek said, making it difficult to estimate when the lake will silt up. Through the USGS, he plans to do a sediment study for Clinton next year, which may make clear where the reservoir really stands on sedimentation.
At any rate of fill, sedimentation remains a serious issue for Kansas reservoirs, and many biological and economic consequences - most of them bad - come with it. Future plans vary as to what we can do to deal with the sediment in Clinton.
When the Army Corps of Engineers designed Clinton after Congress authorized it in 1962, they estimated how much silt would come in each year and how much water they would need at the end of the design life for Clinton, which comes in 2077. The Corps allowed for 28,500 acres of sediment 1 foot deep at the end of its 100-year lifespan. That doesn't mean the lake will be one big mudflat by that time.
"A lot of folks have this misconception that once the sediment pool is filled up, the lake is no longer usable," Lewis said.
The real issue is not really how much sediment is coming into the reservoir each year, Lewis said, but that the sediment is not distributing as evenly as the original plans projected. Once the water comes into the lake, it slows down and loses the ability to carry the sediment, which causes the sediment to build up at the upper end of the reservoir rather than by the dam. By distributing in the lake this way, the sediment cuts into more water storage space than expected.
The Army Corps of Engineers originally planned to do a survey of the lake every 10 years, but the last survey they did was in 1991. That means the current projected sedimentation rate at Clinton does not take into account major flooding in 1993, 1995 and 1998. According to the Kansas Water Office, these recent floods may have increased the sedimentation rate since 1991. Because of a lack of funding, the Corps of Engineers has yet to do a more recent survey. What they do now is monitor the water in the lake.
"We go out and take water samples of the lake," said David Rhoades, park manager for the Army Corps of Engineers at Clinton Lake.
Water quality is an important issue affected by sedimentation. Flats developed by siltation cause additional algae blooms in the lake, which may cause taste and odor problems. The sediment may carry potentially toxic materials, such as phosphorous, nitrogen, arsenic, chromium and copper, among other things.
"We have not done a thorough analysis of Clinton Lake sediments yet to know what is actually in those sediments," Juracek said.
Reducing the sediment load coming into the lake will help slow down the rate of sedimentation, but at some point the amount of sediment already in the lake will begin to cut into public water supply. One solution for that is to fill the lake higher, raising the shoreline by a couple of feet.
"We expected at the end of the design life that we would have a certain amount of storage. This is our way of making sure that happens," Lewis said.
One downside of this is that raising the water level cuts into the amount of water the reservoir can store during a flood.
Another option is to dredge out the sediment from the lake, but dredging is very expensive.
"We're talking tens of millions of dollars for larger reservoirs," Juracek said.
The Kansas Water Office estimated that dredging Clinton would cost $1.6 million each year just to keep up with the sediment coming in.
There is a debate about whether the dredging - if it comes - should be paid for by local taxpayers who use the water or by the state, Lewis said.
"We need to start talking about reservoirs and lakes as our infrastructure, much as we do our interstates and roads," Lewis said. "We're not putting much money into reservoirs and maintaining them to make sure they're viable for a long time."
There also is an issue of what to do with the dredged material once it is removed from the lake. If the dredged silt is tagged as toxic waste, it will be an additional cost to safely dispose of it.
There seems to be no simple answer when it comes to dealing with sedimentation in Clinton Lake. Other reservoirs in the state also struggle with trying to control this costly natural occurrence.
"There are several different options. None of them are ideal," Juracek said. "Sooner or later, tough choices will have to be made."
Copyright 2018 The Lawrence Journal-World. All rights reserved. This material may not be published, broadcast, rewritten or redistributed. We strive to uphold our values for every story published.