Baxter Springs — The Baxter Springs Historical Society has received a grant to turn a gas station along historic Route 66 in southeast Kansas into a welcome center for the famed highway.
The National Park Service Route 66 Corridor Preservation Program awarded the society a $26,202 grant to restore the gas station's exterior and provide heating and air conditioning. The Baxter Springs Historical Society, which owns the building, plans to match the grant with money or with in-kind labor.
"Kansas is a real important spot along the route," said Mike Taylor, director of the Route 66 Corridor Preservation Program. "Even though there's a short length of the highway in the state, it's really full of some wonderful, historic properties."
The Baxter Springs gas station was built in 1930 and is "one of the classic cottage-style Phillips stations," Taylor said. "It was a real no-brainer for us."
Mike Kertok, an architect in Norman, Okla., who has restored several Phillips 66 stations, said they began as unattractive tin shacks. But by the 1930s, the company began designing the stations to blend into neighborhoods.
"They painted them in pretty garish colors," Kertok said. "The original color was emerald green with orange and blue trim, with roof shingles of all three colors in a random pattern."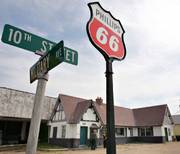 Kertok said pictures he has seen of the gas station in Baxter Springs don't conform to the classic design and that the builder may have taken liberties with the company's plans.
Carla Jordan, who grew up in Baxter Springs and wrote the grant application for the historical society, said organizers are still looking for additional funding to convert the building into a visitor's center.
She also said a chiropractor who currently works in the building will be given plenty of time to find a new location.
"I really believe in Kansas Route 66," Jordan said. "This is my opportunity to give back to my hometown."
Phyllis Abbott, president of the Baxter Springs Historical Society, said she hopes the renovated gas station promotes Route 66 in Kansas and neighboring states, while benefiting the local economy.
"Right here on the route, it will be kind of a high-profile stop," Abbott said.
Copyright 2018 The Associated Press. All rights reserved. This material may not be published, broadcast, rewritten or redistributed. We strive to uphold our values for every story published.