Tuscumbia, Mo. — Gary "Cowboy" Hollis has spent 45 years trying to keep the "Old West" alive and at the same time perfecting an art he learned as a young child.
"I think it all started when my parents bought me a seven-piece leather tool set when I was 10 years old," he said. "I made a lot of things back then just to save money. They weren't the best pieces in the world, but I sure was proud of them. Now I'm in so deep I can't get out."
After graduating high school, Hollis attended Oklahoma State University, where he learned how to make cowboy boots and saddles. Since then he has made several hundred pairs of boots and countless custom-made saddles.
Although he has a degree in leather-making, Hollis obviously has the innate ability to take a plain piece of leather and turn it into a beautifully crafted creation, whether it be in the form of boots, saddles, chaps or chinks.
"If you can design it, chances are I can make it," he said. "I'm always looking for new ideas and new designs."
His shop, The All-American Cowboy Shop, located just a few miles from Tuscumbia, is lined with 15 sewing machines, leather stacked to the ceiling, an entire wall of various tools and a plethora of completed projects.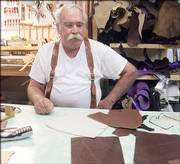 "It takes about 40 hours to make a pair of boots and about 80 hours to make a saddle, depending on what the customer wants," Hollis said. "That's not all at one time, that's several hours over several days, sometimes weeks, depending on the different steps I have to go through. It varies with each pair depending on the detail and how long it takes to cure the leather. It really is an interesting process."
Hollis said a lot of the designs he uses come from various places, including from several of the children he works with in the local 4-H program.
"Kids are some creative people," he said. "Some of the kids we have worked with have come up with some of the neatest designs, and we really do learn a lot from them."
Once he has all of the measurements, Hollis said the next step is to cut the leather. He said he only uses the finest leather available, and each piece is hand-cut and crafted from beginning to end.
"My wife, Carol, helps me a lot, especially with the chaps and chinks," he said. "When we got married 10 years ago, that was the first thing I showed her how to make, and she enjoys doing it and she is very good at it, so that works out really good."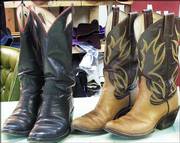 Either Hollis or his wife, depending on the project, hand cuts each piece of leather.
"Cutting it all out does take a little bit of time and it's not my favorite thing to do, but it's all got to be done," he said.
Once each piece of leather is cut to perfection, Hollis prepares to stamp the design.
"If the customer has a pattern they want on the product, then that's what we use," he said. "It's all up to what they want. It's their product and I want them to be happy with it."
Once all of the stamping and designing is completed, Hollis assembles it, creating a masterpiece he and the customer will be proud of.
"I'm probably my own worst critic," he said. "I want each product to be perfect, and I want each customer to be happy with it when it's done. Although I enjoy making the saddles more than anything, I will do whatever the customer wants."
Copyright 2018 The Lawrence Journal-World. All rights reserved. This material may not be published, broadcast, rewritten or redistributed. We strive to uphold our values for every story published.