Wichita — A Wichita manufacturing company, its owner and two top managers were charged Thursday with knowingly hiring illegal immigrants and helping them obtain fraudulent documents, authorities said.
A 28-count indictment filed in federal court in Wichita names Bob Eisel Powder Coatings and its owner and president, Bob Eisel. Also named in the indictment were general manager Kenrick "Butch" Steinert and foreman Troy Hook.
None of the named employees returned phone messages left by The Associated Press at the company's Wichita offices. No arrests have been made in the case.
The indictment includes eight counts of making false statements to the U.S. government, eight counts of misusing Social Security numbers, eight counts of receiving false documents as evidence of stay or employment, three counts of aggravated identity theft and one count of harboring illegal aliens.
"This indictment sends a clear message to American employers that American businesses have a responsibility to obey our immigration laws," U.S. Atty. Eric Melgren said at a news conference. "Businesses that knowingly employ illegal workers are undermining our laws, they are violating our public trust and they are contributing to the problem of illegal aliens in this country."
The indictment charges that since 1997, the company routinely employed undocumented immigrants, mostly from Mexico, while knowing or suspecting that the documents they provided were false.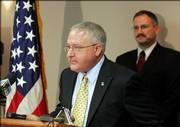 "The company as charged in the indictment was much more than a passive victim of document fraud," Melgren said. "The indictment charges that the company assisted in the purchase of dozens of false identification documents. The company even paid for counterfeit Social Security cards and counterfeit resident alien cards for its workers."
One employee is alleged to have used money from the office safe for each employee that needed new false identification documents, which he initially purchased in the Wichita area until he found a better, cheaper source in Dallas.
When the company began receiving periodic letters in 2002 from the Social Security Administration notifying it that several of its employees were working under suspicious Social Security numbers, the company told employees they would have to obtain different numbers to continue working, according to the indictment.
The company would then "rehire" the same worker using the new identification, the indictment charges. Many of the same employees worked under as many as five or six separate false identities over a period of years, Melgren said.
Copyright 2018 The Associated Press. All rights reserved. This material may not be published, broadcast, rewritten or redistributed. We strive to uphold our values for every story published.