LIBERAL — Justin Swank, a 22-year-old firefighter and medic from Plains, was named the Ultimate Pioneer Friday night after he spent six days in June living on the prairie in Seward County.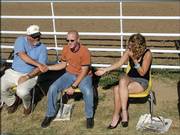 Swank competed for a $2,000 prize with four other contestants from the southwest Kansas area as part of the third annual "Pioneers on the Prairie" competition, organized by the Southwest Daily Times, a newspaper in Liberal.
The faux pioneers were featured in the Journal-World on July 17. The newspaper announced the winner Friday night at the Seward County Fair.
The game was modeled after the CBS game show "Survivor." The competitors slept in tents and tried to find ways to occupy themselves by playing games and hiking. An observer for the newspaper stayed with the pioneers and chronicled the game's events in subsequent weeks in the newspaper.
They also took part in competitions and voted to send the other players home. Swank made it to the final against Jasmine Salley, 20, a waitress and hostess from Liberal.
The three expelled players had cast their votes for who they thought would win, and Swank said he was on edge before Friday night after Mark Haralson, 49, a business owner in Liberal, made an ambiguous comment after Swank had voted to send him home on Day 5. Swank had originally believed he had Haralson's vote.
"(The paper) doesn't say 'I'm voting for him' or 'I'm voting against him.' I'm thinking it could be either way. Up until tonight, I had no clue," Swank said just before he learned that he won.
Swank received two votes, and Salley received one.
Copyright 2018 The Lawrence Journal-World. All rights reserved. This material may not be published, broadcast, rewritten or redistributed. We strive to uphold our values for every story published.