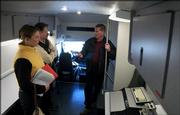 Lawrence Police gained a new tool for fighting drunken driving during the past year with the purchase of a $90,000 blood-alcohol testing van.
The van - equipped with a Breathalyzer machine, a computer and work stations for officers - will be used at DUI check lanes and special traffic patrols to keep officers from having to take suspects to the jail to administer a breath test.
Without the van, before officers can arrest someone for drunken driving, they must take the person to the Douglas County Jail, observe him for 20 minutes and then give a breath test. With the van, they can do the work at the side of the road.
"What we're doing is putting the officer back on the street a little faster," said Sgt. Randy Roberts, supervisor of the department's traffic unit. "It speeds our process up."
The van went into use on Sept. 8, 2005. Police said they expected the van would be deployed roughly once a month, whenever the department conducts a citywide "saturation patrol" or DUI check lane.
The van also has been brought to the scene of major car accidents to allow a group of officers to use the workspace inside for accident reconstruction. For example, the van was brought to the scene of a Jan. 30 wreck at Harper Street and East 25th Terrace that happened after a minivan struck and killed a 6-year-old boy who was riding his scooter to school.
The department does not keep detailed numbers on the usage of the van, LPD spokeswoman Kim Murphree said.
The van was bought with a grant from the National Highway Traffic Safety Administration and is administered by the Kansas Department of Transportation.
Copyright 2018 The Lawrence Journal-World. All rights reserved. This material may not be published, broadcast, rewritten or redistributed. We strive to uphold our values for every story published.