Lawrence Police have a new tool to fight drunken driving.
The department on Wednesday unveiled its new $90,000 Blood-Alcohol Testing van, bought with a federal grant.
The van - equipped with a Breathalyzer machine, a computer and work stations for officers - will be used at DUI checklanes and saturation patrols to keep officers from having to take suspects to the jail to administer a breath test.
Normally, before officers can arrest someone for driving drunk, they must take the person to the Douglas County Jail, observe him for 20 minutes and then give a Breathalyzer test. With the van, they can do the work at the side of the road.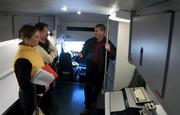 "What we're doing is putting the officer back on the street a little faster," said Sgt. Randy Roberts, supervisor of the department's traffic unit. "It speeds our process up."
The van has been in use since Sept. 8, but on Wednesday Roberts was among those from the department giving a tour to the media and members of the City Commission.
The van won't be roving the streets nightly. Instead, it will be deployed roughly once per month whenever the department conducts a citywide "saturation patrol" or a DUI check lane.
Also, the van will be brought to the scene of major car accidents so that a handful of officers can use the workspace inside to do accident reconstruction.
The van was bought with a grant from the National Highway Traffic Safety Administration. The grant is administered by the Kansas Department of Transportation.
Copyright 2018 The Lawrence Journal-World. All rights reserved. This material may not be published, broadcast, rewritten or redistributed. We strive to uphold our values for every story published.