Lake View Manor won't go down without a fight.
One of the troubled nursing home's co-owners, Charles K. Pomeroy, has told residents and family members he intends to appeal the results of a recent inspection that prompted state and federal officials to terminate the facility's Medicaid agreement.
The termination takes effect May 3. Without the agreement, Lake View will not be eligible for Medicaid payments, its main source of income.
Pomeroy announced his intent during a private question-and-answer session Monday evening at the nursing home, 3015 W. 31st St.
Attempts to reach Pomeroy for comment Tuesday were unsuccessful.
"The facility has three options," said Gilbert Cruz, the state long-term care ombudsman. "It can remain open with private-pay residents, it can voluntarily close and assist residents with relocation, or it can fight termination by filing an appeal.
"Mr. Pomeroy indicated that was his intent - to appeal," said Cruz, who attended the meeting Monday.
Others at the meeting said Pomeroy stressed that Lake View would not close May 3. Instead, it has 30 days - until June 2 - to help residents move.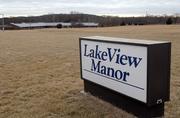 State officials said that while Pomeroy is free to file an appeal with the U.S. Department of Health and Human Services, it's unlikely to forestall Lake View's closing.
"He has 60 days to file an appeal, but that doesn't mean the provider agreement won't be terminated May 3. It will," said Kansas Department on Aging spokeswoman Barb Conant.
Between May 3 and June 2, the federal government will pay Lake View for residents in its care with the understanding they will need this time to find another place to live, Conant said.
If Pomeroy files and wins an appeal - a legal process likely to take several months - Lake View would be allowed to again receive federal funding.
Almost all of Lake View's 32 residents are poor, so their stays are paid for by Medicaid.
Cruz said it was unclear how many residents, if any, have moved.
"Right now, it appears most people are waiting," he said. "The majority said they wanted to stay in Douglas County."
In recent years, Lake View repeatedly has been cited for poor care.
The Department on Aging last year found Lake View to be one of the state's three worst nursing homes, subjecting it to inspections every six months rather than every year.
Lake View failed a five-day inspection in mid-February and, in keeping with state and federal procedures, was given a chance to correct its shortcomings.
The nursing home failed a follow-up inspection April 6.
Inspectors found that 22 of the 38 deficiencies cited in February had not been corrected. Four new deficiencies were cited.
The findings came as no surprise to Rachel Oliver.
"I worked there one day, back in February before the survey," she said. "I couldn't take it. I was in tears by 10:30 a.m. I left for lunch and didn't go back."
Oliver, 23, said she worked in housekeeping.
"I couldn't believe the way residents were treated. It was like they were in the way," she said. "Call lights were on all the time, but there weren't enough people working there to answer them. People were crying for help.
"One woman had messed herself in the hallway and no one was helping her. It was awful."
Lake View is owned by Pomeroy and his parents, Charles P. and Lurene Pomeroy, of Topeka.
Copyright 2018 The Lawrence Journal-World. All rights reserved. This material may not be published, broadcast, rewritten or redistributed. We strive to uphold our values for every story published.