State and federal officials have decided to pull the plug on a Lawrence nursing home.
"We're in the beginning-of-the-end stage," Kansas Department on Aging spokeswoman Barb Conant said Friday.
Conant said the owners of Lake View Manor, 3015 W. 31st St., had been mailed and faxed letters, notifying them of the state's intent to revoke their "provider agreement" on May 3.
Without the agreement, Lake View will not eligible for Medicaid payments, its main source of income.
Most of the home's 32 residents are poor. Their stays are paid by Medicaid.
Residents will have 30 days after May 3 to find other living arrangements.
"The Department on Aging will be working closely with the Centers for Medicare and Medicaid Services to ensure a smooth and safe transition for the residents and their families. They are our first priority," Conant said.
Lake View is owned by Charles K. Pomeroy and his parents, Charles P. and Lurene Pomeroy, of Topeka.
Repeated attempts to reach Charles K. Pomeroy for comment Friday were unsuccessful.
A Journal-World request to meet with residents or family members was denied.
A Lake View employee who asked not to be identified said Pomeroy had not notified residents, family members or day-shift employees of the pending closure.
"He hasn't told anybody anything," said the employee. "That's his style. Everything's a big secret. We know nothing."
Lake View administrator Stephen Dunkin is thought to have left the facility last week. His position remains vacant.
"I got a call earlier this week from the Kansas Association of Health Care Executives, saying Lake View was in desperate need of an administrator," said Michael Warren, who was Lake View's administrator from September to November 2004.
Warren said he left Lake View after Pomeroy, who is not a licensed nursing home administrator, refused to relinquish control of the nursing home's daily operations.
"Mr. Pomeroy totally ran the facility the way he wanted to run it - without any input from the administrator," Warren said.
"When I was there, we weren't in that bad of shape. We were providing adequate care," Warren said. "We were getting better, but we couldn't keep good people in key positions because of Mr. Pomeroy's interference."
Among the worst
Last year, Lake View was declared one of the three worst nursing homes in Kansas by Kansas Advocates for Better Care and subjected to inspections every six months rather than every year.
The nursing home failed a five-day inspection in mid-February and, in keeping with state and federal procedures, was given a chance to correct its shortcomings. State inspectors returned April 6.
"Thirty-eight deficiencies were cited during the February visit," Conant said. "During the April 6 revisit, it was established that 22 of the 38 deficiencies had not been corrected and there were four new ones."
Past deficiencies have included poor care, faulty recordkeeping, inadequate staffing and inadequate efforts to prevent bedsores.
A federal review of Lake View's record between Jan. 1, 2004, and April 6, 2006, found that Lake View was "out of substantial compliance" two out of every three months, Conant said.
Asked whether the Department on Aging had cut Pomeroy too much slack, Conant replied: "For every time they were out of substantial compliance, they'd come back in. And then, with the next survey, they'd be out of compliance again or we'd get a complaint.
"You want to give them every opportunity to be in compliance because you don't want to upset the residents and their family members. You don't want to have to make them move," she said. "You hope that at some point, everything will straighten out. But in this case, it obviously didn't."
Help with move
The closing is expected to be difficult for residents.
"The harsh reality is that a lot of these folks won't survive the move," Warren said. "It's a very serious situation for them."
The State Long-Term Care Ombudsman's office is expected to help residents find other homes.
"Someone from this office will get a list of resident and family members' names, and there will be a meeting," said Deborah Merrill, whose last day as head of the ombudsman's office was Friday. "We'll meet with each one individually. We have a list of openings in other facilities, and we'll inform them of their rights."
Merrill encouraged family members to call the ombudsman's office toll-free at (877) 662-8362 with any questions.
Merrill's replacement, Gilbert Cruz, a licensed nursing home administrator from Garden City, starts Monday.
Deanne Bacco, executive director at the Lawrence-based Kansas Advocates for Better Care, encouraged family members not to blame state officials for Lake View's troubles.
"It's too bad it had to come to this, but this has been going on way too long," Bacco said. "This is a facility that's been given more than ample opportunity to get its act together and it hasn't.
"That's a big disservice to the people who live there."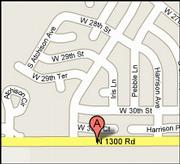 Copyright 2018 The Lawrence Journal-World. All rights reserved. This material may not be published, broadcast, rewritten or redistributed. We strive to uphold our values for every story published.