Lake View Manor nursing home is in trouble again.
State officials fined the Lawrence facility $7,000 last month after confirming reports that an aide had been rough with residents.
The nursing home is currently under a state-imposed ban on new admissions.
Attempts to reach Lake View owner Charles K. Pomeroy for comment Tuesday were unsuccessful.
Kansas Department on Aging records show that inspectors went to the nursing home at 3015 W. 31st St. on Nov. 17, after receiving complaints that an aide had been abusive.
Five residents cited the aide for being "mean," "rough," "hateful" and "verbally abusing."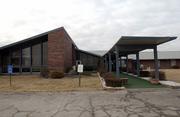 One resident admitted trying to bite the aide after she had "been rough with me and threw me" onto a bed. Another resident said the aide had "jerked my legs and pulled my pillow from under me."
Though the nursing home's director of nursing had been aware of the aide's behavior for two weeks, the aide wasn't fired until after the inspectors arrived.
State and federal regulations require nursing homes to investigate complaints and suspend employees suspected of abuse or neglect.
In recent years, Lake View, which has 34 residents, has been cited several times for poor care. In February, Medicaid officials ordered the nursing home inspected twice a year rather than once.
If Lake View doesn't show "significant improvement" by August 2006 it's likely to lose its Medicaid certification, said Karen Sipes, a spokeswoman for the state Department on Aging.
The decision, Sipes said, will be driven by information gathered during the semi-annual inspections.
Without access to Medicaid, Lake View likely would be forced out of business.
The Nov. 17 visit was in response to resident and family members' complaints. It is not considered part of the semi-annual inspection process.
"They had shown some improvements," Sipes said, referring to earlier findings.
In Kansas, only two other nursing homes - Atchison Senior Village and Ottawa Retirement Village - are on the list for twice-a-year inspections.
Copyright 2018 The Lawrence Journal-World. All rights reserved. This material may not be published, broadcast, rewritten or redistributed. We strive to uphold our values for every story published.