The sounds of music and the smell of barbecue made for a jovial atmosphere Saturday night in the 1000 block of Pennsylvania Street.
"It's the biggest gathering of East Lawrence folks," said Janet Good, president of the East Lawrence Neighborhood Assn., which annually organizes the block party.
"It's the one event where we don't concern ourselves with issues and just have a good time," said K.T. Walsh, longtime neighborhood resident.
Hamburgers and hot dogs hot off the grill, along with chips and pies, filled tables lined along the street. Beer and soft drinks also were available.
Before the night was over, about 300 people were expected to have stopped by, organizers said.
They were entertained by music from three bands, a disc jockey and a gospel choir from St. Luke AME Church, 900 N.Y.
Among other activities was a "wacky bicycle" ride provided by resident Eric Farnsworth. A few children took their turn aboard a cycle contraption made of a surfboard and various bicycle parts.
Farnsworth and some assistants also did free bike repairs.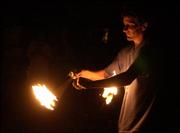 A moonwalk for children was set up on the property of Mark Lehmann, owner of Old Home Store, 1045 Pa. He has opened his property to the party for the past four years.
"This kind of brings the neighborhood together," Lehmann said of the event.
Farnsworth, who has lived in the neighborhood for four years, said he liked the diversity of its residents.
"It's a nice mix," he said. "It's got that sort of hybrid vigor."
The event also serves as a fundraiser for the association, although that is not its main purpose, Good said.
Money from raffles and cake walks helps pay for neighborhood work days. Volunteers this year are helping repair homes for elderly residents.
"We intend to do some weatherization for folks because it's going to be winter, and natural gas prices are going to be high," Good said.
Copyright 2017 The Lawrence Journal-World. All rights reserved. This material may not be published, broadcast, rewritten or redistributed. We strive to uphold our values for every story published.