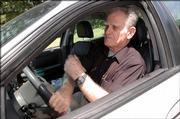 A Lawrence man has won his court battle against a $45 speeding ticket.
A Douglas County District Court judge on Friday found Zamir Bavel, above, not guilty of speeding.
Because of the decision, Bavel won't have to pay a $45 ticket issued to him in March 2004. Bavel's persistence in the case was described in a recent Journal-World article.
"I am very pleased with the outcome," Bavel said Friday. "I feel I made my point."
Bavel, who represented himself in court, argued that Lawrence Police officers don't have enough training to operate radar guns and shouldn't be allowed to issue speeding tickets, including his. The lack of training, he said, means some officers may incorrectly read speeds on radar guns.
Bavel, a computer science professor at Kansas University, also has said he wasn't speeding when he was issued a ticket near 19th Street and Ousdahl Drive.
It wasn't immediately clear if his victory would result in changes in police training.
Copyright 2018 The Lawrence Journal-World. All rights reserved. This material may not be published, broadcast, rewritten or redistributed. We strive to uphold our values for every story published.