The death of Chief Justice William Rehnquist has some local Supreme Court watchers looking beyond John Roberts to the next Bush nominee.
"The real fight is the next one," predicted Stephen McAllister, former dean of Kansas University's Law School. "I think Roberts is on track to be confirmed and to be confirmed as chief ... The real issue is replacing (Sandra Day) O'Connor."
President Bush originally picked Roberts to replace O'Connor, but announced Monday he would name Roberts to succeed Rehnquist.
With Roberts' hearings set to begin Monday, area advocacy groups are mulling the future with a changed court.
"The fact that there's a second vacancy certainly increases our concern that the basic right to privacy may be at risk," said Peter Brownlie, president of Planned Parenthood of Kansas and Mid-Missouri.
Brownlie said privacy rights and the future of Roe v. Wade could be at stake. He said he hopes officials ask tough questions and examine the records of Roberts and the yet-to-be named second nominee.
Mary Kay Culp, executive director of Kansans for Life, said her pick for the second nominee would be Edith Hollan Jones, currently a judge on the U.S. Court of Appeals for the 5th Circuit. That court handles cases from federal district courts in Louisiana, Texas and Mississippi.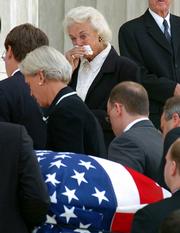 Culp said she had read an article in which Jones discussed abortion and she was impressed by Jones' statements on the issue.
"That was one of the best things I've ever read," Culp said. "Because of that she wouldn't be nominated because she'll have a bull's-eye on her back."
Culp said she favors a nominee that is a strict constructionist.
"That kind of a justice we feel would rule the right way in abortion cases," she said.
Phil Minkin, president of the Douglas County American Civil Liberties Union, said his expectations are fairly low.
"I just hope that they don't go too far to the right and endanger our civil liberties for years to come," he said.
Lawrence resident Deanell Reece Tacha, chief judge of the U.S. Court of Appeals for the 10th Circuit, was mentioned in a national news program earlier this summer as a possible replacement for O'Connor. She declined Tuesday to discuss political aspects of the issue.
"I hope this is a very orderly and professional process," she said.
Copyright 2018 The Lawrence Journal-World. All rights reserved. This material may not be published, broadcast, rewritten or redistributed. We strive to uphold our values for every story published.