China isn't quite ready to challenge America for economic pre-eminence in the world, Tanya Dorf says, but it's getting close.
"Economically, it's a looming powerhouse," said Dorf, director of Independence Inc. in Lawrence. "Being there, you can see how their economy is ready to explode."
Dorf traveled across China on a 10-day trip last month sponsored by the American Council of Young Political Leaders, a bipartisan organization that sends delegates overseas on study programs to meet foreign officials and understand U.S. foreign policy.
"We're like citizen diplomats," Dorf said. "I think America needs to realize we have a global economy. We need to be aware of other cultures, how other nations are going to affect us."
Her nine-person delegation traveled to Beijing, Guyang City, Guangzhou, Zhongshan and Shanghai.
She also met Xu Jialu, the No. 3 official in China's government.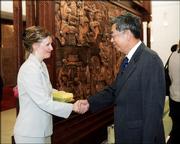 The meetings with Chinese officials, she said, were very formal and included exchanges of gifts.
"Everybody is so polite," she said. "It felt like we have something to learn from the Chinese, in how formal they are with each other."
Dorf, a Democrat, plans to run next year for the Kansas House seat being vacated by Rep. Nancy Kirk, a Democrat who represents North Topeka. Dorf said the trip opened her eyes to Chinese realities not contained in books and briefings.
"It's re-emphasizing we're not the only power on earth," she said of the trip. "We have to share with other people."
Copyright 2018 The Lawrence Journal-World. All rights reserved. This material may not be published, broadcast, rewritten or redistributed. We strive to uphold our values for every story published.