Washington — Agriculture Secretary Mike Johanns says the Bush administration plans to push for major reforms when farm legislation is rewritten next year in an effort to jump-start international trade talks that have bogged down over farm subsidies.
In a speech to a lobbyist group last week, Johanns said the current farm program, which was established in the 2002 Farm Bill, favors only a handful of large-scale farmers and threatens America's efforts to tap into lucrative world markets.
"I describe the current farm bill as perhaps the most high-risk approach we could take for our nation's farmers and ranchers in the future," Johanns said. "Some have expressed concern about giving up what is considered to be the current safety net. I ask you to contemplate the purpose of a safety net, and whether current farm programs truly fulfill that purpose for American agriculture."
But the question facing Bush administration officials, including Johanns and U.S. Trade Representative Rob Portman, when they arrive in Switzerland for trade negotiations starting Monday with the European Union and other nations is whether U.S. trading partners will take them seriously. Although officials are expected to offer cuts in U.S. farm programs while in Geneva, many powerful members of Congress have shown little appetite for meddling with farm subsidies, 92 percent of which go to so-called program crops: corn, cotton, soybeans, rice and wheat.
In fact, the last time a Bush administration official called for major reforms to farm policy - then-Agriculture Secretary Ann Veneman unveiled a white paper prior to the 2002 Farm Bill - she got verbally pummeled by angry congressmen, and the White House eventually reversed course.
And just last week, after President Bush delivered a speech at the United Nations calling for an end to subsidies and tariffs, Senate Agriculture Committee Chairman Saxby Chambliss, R-Ga., unveiled cuts to the agriculture budget that dug heavily into conservation and food stamp programs while leaving farm subsidies relatively intact.
"The administration certainly has a different position than most of the people that are focused on ag policy, like ag committee members, ag staff," said Scott Stofferahn, deputy state director for Sen. Kent Conrad, D-N.D. "There's a disconnect here."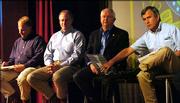 Mark Ritchie, president of the Institute for Agriculture and Trade Policy in Minnesota, said Johanns' speech highlights two conflicting forces.
"What you have is campaign contributors to Bush who see the (World Trade Organization) as a way to get more deregulation. These would be the biggest companies," Ritchie said. "And the big contributors to House members - these would be the individual and collective/commodity groups - who don't want the WTO to do anything.
"The speech by Johanns comes when the House Ag Committee is saying no way, no how" to wholesale farm subsidy cuts, Ritchie said.
Calvin Dooley, a former California congressman and cotton farmer who now is president of the Food Products Association, was more optimistic. Noting Bush's speech to the United Nations last month, Dooley said the administration had presented its "strongest challenge to the program crops to embrace reforms that would be consistent with the international economy."
Dooley also pointed out that circumstances are different from when Veneman made a pitch for farm policy reforms. Now, Congress has more incentive to cut subsidies because of the budget deficit and a string of WTO challenges to farm subsidies, including a successful challenge by Brazil to a program that paid millers and exporters a subsidy to buy U.S. cotton instead of cheaper imports.
Farm subsidies that encourage production have been widely criticized for creating artificially low prices that make it difficult, if not impossible, for farmers in developing countries to compete. The WTO negotiations are trying to limit or eliminate trade-distorting farm subsidies. Subsidies that don't affect trade, such as those for conservation, would be allowed.
Johanns spoke after traveling to 17 states to hear from farmers. Although he insisted he was simply echoing what he had heard and not outlining policy for the next farm bill, he made it clear that many farmers - and the Bush administration - favor wholesale change.
"Soon we must decide as a nation whether to embrace a new age of agriculture or continue relying on a policy structure that was conceived 75 years ago, when the face of agriculture was very different than it is today," he said.
Johanns questioned the fairness of a system that gives the program crops nearly all of the subsidies even though they account for only a quarter of U.S. agricultural production.
He also noted that large farms receive a disproportionate amount of federal subsidies, even though the vast majority of farms are relatively small in size. Less than 8 percent of farms - those classified as medium or big - receive 50 percent of government payments, he said. In all, about two-thirds of farmers get little or no financial support from the U.S. government.
Copyright 2018 The Lawrence Journal-World. All rights reserved. This material may not be published, broadcast, rewritten or redistributed. We strive to uphold our values for every story published.