Eric Mbaka, a Kansas University senior, mingled with some of his friends as he waited for some turkey Tuesday evening at Morning Star Church in Lawrence.
"If it's well cooked, I like it," said the electrical engineering student from Kolwezi, Democratic Republic of Congo.
Mbaka was one of more than 200 people from more than 40 countries at the 10th annual Thanksgiving Dinner for International Students.
Midwest Student Ministries and its Nation-to-Nation program organize the dinner, which many area businesses sponsor. The gathering also allows the students to entertain one another during the evening.
Odessa Reis, a junior from Curitiba, Brazil, said that she planned to perform Brazilian dance styles called samba/axe.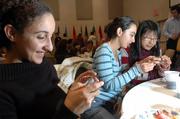 Reis said she, like Mbaka, actively participates in Nation-to-Nation meetings and activities throughout the year.
"I think many people start building relationships here," Reis said. "They don't have families at KU, but we start meeting every Friday, and it's just a good way for them to make friends."
Midwest Student Ministries President Erik Fish, a 1998 KU graduate, said he enjoyed seeing the students connect with one another and the Morningstar Church members.
"We want to show love and friendship to people from other countries so that they feel welcome here," Fish said.
The evening in one way reminds him of the first Thanksgiving.
"Part of it was a story about God providing through different friendships between different people," he said.
Copyright 2018 The Lawrence Journal-World. All rights reserved. This material may not be published, broadcast, rewritten or redistributed. We strive to uphold our values for every story published.