Topeka — With family and friends watching, Eric Rosen took his oath of office Friday to become the newest member of the Kansas Supreme Court and won't waste any time getting to work.
Rosen, a Shawnee County district judge since 1993, was named in July by Gov. Kathleen Sebelius to fill the vacancy created by the death of Justice Robert Gernon.
At 52, he becomes the seventh member of the state's highest court at a time when some legislators have been criticizing it for being out of touch.
"I want you to know I shall dedicate the remainder of my career honoring my oath to protect the liberties and freedoms guaranteed by our constitution and the laws of our state by steadfastly safeguarding the neutrality of our courts," Rosen said after taking his oath on a Bible his grandfather had when he fled Russia in the 1890s.
Chief Justice Kay McFarland said the mood in the Supreme Court chamber filled with some 350 people was "a good happy feeling," and quipped, "Believe me, that's very rare in this courtroom."
Rosen, the fourth justice to join the court in the past 18 months, said he will be in his new office Monday, reading cases and preparing to join other justices when they hear arguments Dec. 5.
"He's so enthusiastic and anxious to get going, and he's got a lot of energy," McFarland said after the ceremony. "He'll pull his share of the load and then some."
Friends and colleagues characterized Rosen as a "people person" who listens to all sides of an issue, leads by example and writes opinions well.
"Eric hasn't been afraid to take tough cases and high profile cases," said Shawnee County District Judge Nancy Parrish, who has known Rosen for nearly 30 years.
She told Rosen that he should leave "your extraordinary public relations experience" to his former district court colleagues. Noting how the Supreme Court has been criticized, she added, "Perhaps you need to retain some of that ability."
Eric Rosen
Age: 52; Born May 25, 1953 Hometown: Topeka Education: Bachelor's degree in social work, Kansas University, 1975; master's degree in social work, KU, 1976; law degree, Washburn University, 1984 Career: Served as Shawnee County District Court judge from 1993 to present. Was in private practice from 1990 to 1993. Served as assistant district attorney and later associate general counsel to the Kansas Securities Commission. Was an assistant public defender upon graduating from law school Personal: He and his wife, Libby, have four sons and three grandchildren
By being sworn in Friday, Rosen avoids standing for a retention voice in the Nov. 7, 2006, general election at a time when the court has been criticized for ordering legislators to spend more money this summer for education and for striking down the death penalty. A new justice must serve a full year before facing a retention vote for a six-year term.
Rosen said the election date didn't figure into the decision for when he would join the court. Instead, he said, he wanted to dispose of cases scheduled through October in his trial court.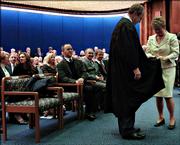 Winning retention hasn't been a problem for a justice. Since 1960, when the state ended partisan elections for the court, no justice has failed to win retention by less than a two-thirds majority.
In June, the court told legislators to provide an additional $143 million for public schools, prompting a special legislative session. Complaining the court exceeded its authority, many Republican legislators unsuccessfully tried to pass a proposed constitutional amendment reining in the court's power.
The court in December struck down the state's death penalty law, but that decision was appealed to the U.S. Supreme Court, which will hear arguments next month.
The school finance and death penalty rulings have generated interest among some legislators for requiring Senate confirmation of justices appointed by the governor.
Copyright 2018 The Associated Press. All rights reserved. This material may not be published, broadcast, rewritten or redistributed. We strive to uphold our values for every story published.