When Lawrence resident Curtis Marsh was burying his father in 2001, an unexpected visitor appeared at the military funeral: a boom box.
A member of the military honor guard placed it upon a folding chair and used it to play a recording of "Taps," the ceremonial song long played to lay soldiers to rest.
"I was surprised that the Army doesn't have buglers anymore," Marsh said.
They do now, at least in this area. Marsh takes his 1941 trumpet that his great-uncle played in a military band and travels to a military funeral one to two times per month to perform "Taps."
Marsh, who volunteers his time, will be busy today. He'll be playing at several events in Leavenworth to commemorate Veterans Day.
"I tell people that part of this volunteering is selfish," said Marsh, whose father and grandfather both served in the U.S. Army. "It really is a way to honor these soldiers. It is a very good feeling. The soldiers deserve it, the families deserve it, and I have been in their place.
"It is an integral part of saying goodbye for many of these people."
Vern Russell, commander of the Veterans of Foreign Wars post in Lawrence, said finding musicians to play the tune can be difficult.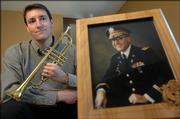 "A boom box or something like that kind of takes away from the ceremony," Russell said. "We always try real hard to have someone there."
Both men, though, said they understood the military's decision to cut back on keeping buglers on staff.
"In today's military, they have had to endure force reductions, so they have had to use their manpower elsewhere," Russell said.
Marsh said he does a few services in Lawrence and the Kansas City area, but primarily plays for services at Fort Leavenworth. He praises his employer, Kansas University Continuing Education, for allowing him to take time off to attend the services.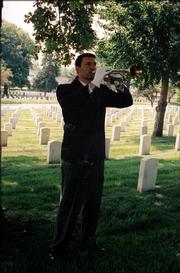 Although Marsh, who has been performing at the services since 2001, said he's honored to participate, he said the job could be emotionally draining.
"In the last two months, I have done two services for soldiers who have been less than 20 years old," Marsh said.
But the activity also has its lighter moments. British officers stationed at Fort Leavenworth asked him to play "Taps" in observance of Britain's Remembrance Day. It was only a couple of days before the event that Marsh realized that the British versions of "Taps" was different than the American version.
"They are not only very different, they are freaking hard," Marsh said. "I was really nervous that I wasn't going to be able to pull it off. But I think it went well. They asked me back."
Copyright 2018 The Lawrence Journal-World. All rights reserved. This material may not be published, broadcast, rewritten or redistributed. We strive to uphold our values for every story published.