Topeka — Sculptor Jim Brothers has been called on to create a 7 1/2-foot bronze statue of a soldier lost in thought, mourning the loss of a fallen comrade.
Titled "Homage," the work will anchor a veterans' memorial in Topeka's Gage Park. Veterans begin a drive to raise $140,000 for acquisition and installation of the sculpture today.
Brothers, of Lawrence, said his goal was to allow visitors to stand in the boots of a warrior.
"He's paying homage, thinking 'There but for the grace of God go I. Here lies a brother,"' Brothers said. "When you walk up, you're joining him."
Brothers' sculptures include one of Gen. Dwight Eisenhower, who led the Allied forces in Europe during World War II and later become president, a work that stands in the U.S. Capitol. He also made 10 figures for the National D-Day Memorial in Bedford, Va.
The new sculpture will be installed on the axis of the hexagon-shaped memorial, said Bob Owen, a former Army reservist who is helping coordinate the project.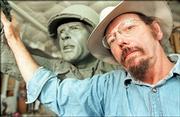 The piece will be surrounded by designated areas for recognition of those who fought in World War I, World War II, the Korean and Vietnam wars, Desert Storm and Operation Iraqi Freedom.
The segment paying tribute to the Korean War has been installed.
"This monument honors all veterans, whether they're dead or alive," said Vietnam veteran Ron Zink, of Topeka. "It's a reminder to veterans and nonveterans that there's been a lot of people over the years who have sacrificed their time, their energy, their bodies and their lives to serve their country."
Copyright 2018 The Associated Press. All rights reserved. This material may not be published, broadcast, rewritten or redistributed. We strive to uphold our values for every story published.