Old leathernecks and young jarheads celebrated the Marine Corps' 230th birthday Thursday, cutting cake but solemnly remembering their brethren fighting abroad.
Former Lawrence Mayor Erv Hodges, who spent 23 years in the Marines, hosted Thursday's celebration at the Dole Institute of Politics.
"Most important, we remember those young veterans serving in Iraq, Afghanistan, Bosnia and all around the world," Hodges said. "They have our support and prayers."
Overall, there were more than three dozen current and former Marines - with service dating back to 1941 - on hand for the event. Attendees heard a choir from Lawrence High School sing the national anthem and Marine Hymn before listening to a video message from Gen. Michael Hagee, the corps' commandant.
"One of our strengths as Marines is we are a family," Hagee said. "Whether you served four or 40 years, you are part of that family."
That much was apparent at the Dole Institute, where more than 150 people - including current and former U.S. Marines - gathered.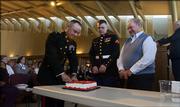 "We are a corps born of an act of Congress, consecrated in sacrifice, steeped in tradition and tested in battle," said Marine Lt. Col. Earnest Garcia, a KU graduate, in a speech that moved some of the veterans in the audience to tears.
Hodges said the Lawrence celebration has been held for 35 years, started by a small group of city employees who had formerly served in the corps.
A number of ex-Marines who had been in public service in Lawrence were on hand Thursday: Former Mayor Marty Kennedy, former Undersheriff Bill Shepard, former Fire Chief Jim McSwain and former Public Works Director George Williams were among those celebrating.
But the party wasn't limited to Lawrence.
"These celebrations occur throughout the world," Hodges said. "Everywhere."
Veterans day
The American Legion, the Veterans of Foreign Wars and the DAV will combine to host a Veterans Day ceremony at 11 a.m. today at the American Legion post, 3408 W. Sixth Street. The public is invited.
Copyright 2018 The Lawrence Journal-World. All rights reserved. This material may not be published, broadcast, rewritten or redistributed. We strive to uphold our values for every story published.