Topeka — Sen. Jim Barnett has picked Sen. Susan Wagle as his running mate in his bid to be the Republican gubernatorial nominee facing Democratic Gov. Kathleen Sebelius.
Barnett, an Emporia physician, is running in the Aug. 1 primary against House Speaker Doug Mays, of Topeka; former House Speaker Robin Jennison, of Healy; and two lesser-known candidates. It's the first time in at least two decades that two senators have been on a ticket for governor.
Neither Mays nor Jennison has announced a running mate.
Wagle, 52, of Wichita, was first elected senator in 2000 and was a House member for a decade before that.
She's known for embracing conservative causes, but Barnett said he didn't pick her to cut into Mays' conservative base.
"This is a ticket for all Kansans," Barnett said in a telephone interview Monday.
Barnett said one of his top priorities is to bring jobs to the state.
"She is respected by the business community and has national connections that will help us bring business to this state," he said. "A big part of her job is working with me on how we can grow the economy of Kansas."
Barnett said he considered others for the No. 2 position but picked Wagle because she was the most qualified.
"Jim and I are in fundamental agreement on the big issues affecting this state, on the need to get Kansas moving forward," Wagle said.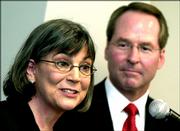 Still, Wagle has strong conservative credentials.
As a Kansas House member, she helped write a 1997 law that requires doctors who perform abortions to inform their patients about risks and about fetal development. She also led a legislative investigation into then-Attorney General Carla Stovall's 1996 decision to hire her former law firm to handle lawsuits against large tobacco company, which earned the firm $27 million in fees.
As a senator two years ago, she filed a complaint against a University of Kansas professor over how he taught his human sexuality courses. Although the university found no merit in her allegations that he harassed students and showed obscene videos, the Board of Regents eventually adopted a policy on such classes.
More than moderates, conservative Republicans determine primary elections in Kansas.
Barnett refuses to characterize himself either as moderate or conservative. "I'm a Republican who wants to grow Kansas and move Kansas forward," Barnett said.
His voting record is mixed. He opposes abortion, pleasing conservatives. But he joined moderates to vote for more public school funding during the summer's special session.
Although a major plank in Barnett's platform is economic growth, the Sebelius administration has said repeatedly the economy is improving, pointing to employment statistics that show job growth starting in 2004. State officials recently issued a more optimistic revenue forecast for the current budget year.
Also running for the GOP nomination are Dennis Hawver, an Ozawkie attorney and Libertarian candidate three years ago, and retiree Richard Rodewald, of Lawrence, a perennial candidate for state and federal office.
Copyright 2018 The Associated Press. All rights reserved. This material may not be published, broadcast, rewritten or redistributed. We strive to uphold our values for every story published.