Overland Park — While Jacob Hall intently pronounces the words on his flashcards, Neha Gulrajani sits nearby working with a numbers board and Jillian Sommerauer talks to her teacher about the picture book she wants to take home.
It sounds like kindergarten, but these kids gathered recently at a suburban Kansas City strip mall to get extra help for what some say is an academic world that's placing increasing pressure on youngsters.
The children at the Kumon learning center are part of a national growth in such preschool programs - and a debate over whether they help children.
While some educators say no evidence exists to show preschool tutoring has long-term benefits for children without learning disabilities, other educators, and parents, say the programs give children confidence and important building blocks for their schooling.
Kumon, which has existed for 50 years for older students, began opening Junior Kumon classes in North America in May 2003 and had 304 of the centers by February of this year. Sylvan Learning Centers started offering reading programs for 4 1/2-year-olds in April. Kaplan Inc., however, has offered its SCORE! program for youngsters since 1992 and says the percentage of 4- to 6-year-olds has stayed near 15 to 20 percent.
Parents key
Representatives of all three organizations say the major change in recent years has been in parents, who are demanding programs for their preschoolers.
"What we are seeing is a real difference in the level of sophistication of parents bringing their children to us," said Beth Hollenberg, executive vice president of Kaplan's SCORE! programs. "They are much more educated about the specific skills their children will need in kindergarten and first grade, and they want us to help with that."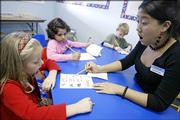 Fear of being left behind
Others suggest that the federal No Child Left Behind initiative and changes in the public education system have created an environment where parents feel pressured to push their children into learning at earlier ages.
"Some of this is coming from the push down from No Child Left Behind," said Sara Wilford, director of the Art of Teaching graduate program at Sarah Lawrence College. "That has created an atmosphere where it is better to do it sooner, because they are going to be tested on it sooner."
Wilford, who was director of the college's early childhood center for 22 years, said she feared that some early tutoring programs may actually turn youngsters off to education, if they are more regimented than preschoolers need.
"Children learn in a very hands-on, very active way," she said. "I do think ''sooner means better' completely loses everything we know about how children learn."
Gedeon Deak, an associate professor of cognitive science at the University of California-San Diego, shares Wilford's fear. Except for children with learning disabilities or other factors that make learning difficult, tutoring has not been shown to have any long-term benefits, he said.
"My suspicion is that a lot of parents that are doing this for preschoolers, unless there is some other reason like a doctor expressing concern, are simply overanxious and putting their energy into something that is maybe not effective, except at enhancing the revenue of certain companies," Deak said.
Early boost
But Andrea Pastorok, an education psychologist who helped design the Junior Kumon program, said preschoolers can learn better if they master pre-literacy skills, such as phonetic awareness and understanding the alphabet.
"Many, many children will not pick up these skills automatically," Pastorok said. "If we can intervene at an early stage and prevent years of struggle for children, what's better than that?"
Nearly everyone agrees that the best programs for preschoolers emphasize individual instruction that targets each child's learning level. They also must be fun, hands-on learning given in short spurts.
Kaplan, Kumon and Sylvan programs all emphasize those factors. While the programs differ in some ways, most preschoolers are at the centers from one to two hours a week, with some work at home. None of the programs push children to read fluently or do math problems before they enter kindergarten.
And all three emphasize the importance of parents in their youngsters' learning.
"We have known forever that what moms and dads do at home is very important," said Pastorok, who worked with children for 30 years before joining Kumon. "And children learn best through play. No one is arguing with that."
Confidence builder
Back at the Overland Park Kumon center, Jacob's, Neha's and Jillian's mothers are convinced their children are benefiting from the program. All the children are in kindergarten, but joined the program before they went.
The mothers say their children have improved not only academically, but in their confidence and love of learning.
"If you want to have a long- term success, you have to have a strong foundation," said 5-year-old Neha's mother, Vandana Gulrajani, "She has gained from here. She has confidence to talk to teachers and give answers."
Jillian's mother, Anne Hall, has had three children at Kumon and intends to enroll her fourth. She said Kumon has helped her children excel, even as they moved from different teaching methods at a private school to public education.
"I don't see how this can't benefit them," she said. "You see a lot of kids who can't do math without counting on their fingers or using a computer. These kids learn to use the computer God gave them, instead of one you can buy at a store."
Parents should ignore the argument between educators and use their common sense in educating their children, said Richard Bavaria, a vice president of education for Sylvan Learning Centers.
"We have to be careful that children don't become pawns in the ideologies of adults," Bavaria said. "The fact is, there is no one way to teach all children. Parents should take the best of all the ways, present that to the child and do what's right for that child.
"In fact, if they run into an educator who says there is only one best way for all children to learn, they should run away from that person."
Copyright 2018 The Associated Press. All rights reserved. This material may not be published, broadcast, rewritten or redistributed. We strive to uphold our values for every story published.